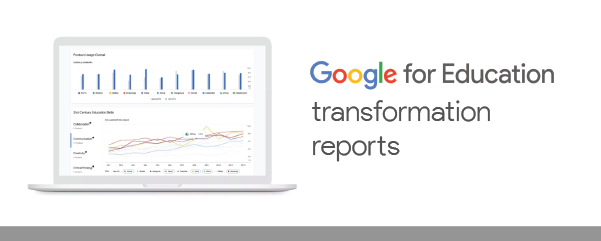 As a former technology director, I was always looking for ways to find the ROI on the many initiatives and projects that we instituted around the district. Adding further complexity, Education IT tends to have different goals than a "traditional" IT department would. In education, we look for transformational changes in learning. Specifically, many schools today (my former school included) base their goals around the 4C's (Communication, Collaboration, Critical Thinking, Creativity). Decision makers want to know how the money being spent is actually progressing toward these admirable goals.
It can be challenging to quantify the impact that technology has on classrooms. Trying to measure the impact Google Workspace for Education tools have within an educational ecosystem is no different. While there are reports that can be extracted with various tools, oftentimes these reports present a collection of usage data without much meaning. Learning that 1.5 million Google Docs have been created in your domain and that Google Classroom is being used by 65% of your domain, for example, might be interesting but is not especially valuable in measuring against your district's broader transformational goals (unless your district has chosen to align success metrics with usage levels).
Last year, Google announced the Google for Education transformation report,
a free tool for Google Workspace for Education administrators. The transformation report is intended to give educational IT decision-makers actionable information and targeted recommendations (including use cases) to increase the use of Google Workspace tools and Google for Education programs within your organization, with a focus on the 4C's. Additionally, the report focuses on the seven areas of
Google's Transformation Framework
and, based on survey results from leaders within your district, shares where your organization is excelling and where there might be opportunities to improve. This year, Google has a few updates to the reports since last year's launch based on user feedback. Specifically: 
*New* Custom reporting windows: to help schools measure the technology usage pre-COVID vs today, Super Admins will have the ability to customize reporting windows (current vs previous). Graphs in each report will show comparison data from the two time periods selected, highlighting trends in usage over time.

Improved shareability: We've made it easier for Super Admins to give others access to your interactive reports once available, so more people (inside or outside an organization) can benefit from the tailored resources and recommendations shared throughout.

Distance learning resources: Google provides links to many of our most popular distance learning resources throughout each report.
There are two key things that make this report different than other reports
The first is the inclusion of survey data that should give you insight into where your district is on your transformational journey (in areas like Vision, Culture, Technology, PD, Community Engagement, Funding and Sustainability, and Learning) through the lens of those who filled out the transformation survey provided. The second is a summary view of all Google Certified Educators Level 1 & 2, Certified Trainers, and the Google Certified Innovators within your organization. This data point (the list of certified staff members) is invaluable when trying to build capacity and highlight innovative instructional strategies in your district. 
The report is a combination of survey data and product/program usage data taken directly from your Google Workspace for Education domain-based primarily on the 7-Day active user measurement.
When you start the survey, you will be asked for the number of students and staff in your domain. This number will be used as the denominator in the report when calculating the percentages of active users for a given product within your domain. So, if you have had issues keeping your user accounts cleaned up in your domain, this will not skew your results. While the survey is not required, the responses will make the report more robust and actionable. The survey is intended to be shared with/completed by anyone on a district or building leadership team who might provide a valuable perspective on change management and administered annually.
I recommend filling out the survey first before you share the survey link with other district leadership.
The survey will take about 10-15 minutes to finish.
This survey window
will be open November 2nd through November 20th and the report becomes available on December
2nd.
With the usage data, the survey data, and the lists of "Certified" educators, this report is best used to start conversations with educational leaders at your school. With the usage data, schools can know what tools are used the most or the least which help a district develop a strategy and direction for where they want to go with Google Workspace tools and where to focus in-service support and training. Survey results will help take the temperature of key district staff and give admins insight into their view of adoption, usage, and planning. Knowing how many staff have various Google certifications can help shape a proactive staff PD plan that supports champions and Google Workspace adopters in your district.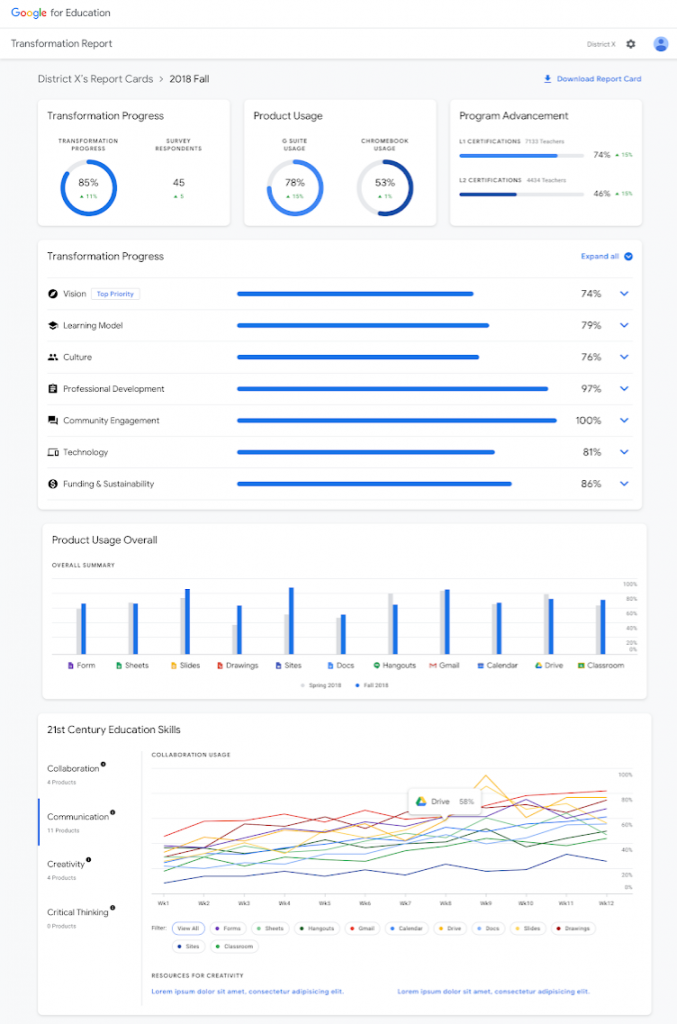 At Amplified IT, we are responsible for meeting with institutions to learn about their needs and goals and using our expertise to align them with our offerings to create a roadmap for their success.
What are your school's pain points? What areas do you need support in as the IT leader in your district?
We want to make sure that you are receiving the best possible support from Amplified IT in your Google environment.
On
December 2nd
when your first transformation report becomes available, your first step could be to schedule a meeting with educational stakeholders to talk through the information presented in the report and see what talking points align with your environment. Having these robust conversations will help you understand how Google Workspace and Chromebooks can best align with and support your goals for the learning environment in your schools. It also will allow you to highlight your progress towards current goals and set new short and long-term goals.
Additionally, using the data from your transformation report, Amplified IT can help align your focus areas with services and tools that can significantly accelerate you towards your goals.
Based on the results of your report and your current or future goals, here are a couple of areas that we think could help you along your transformational journey:
Little SIS for Classroom:

If your goals are to increase collaboration between students, staff, and guardians, a Little SIS implementation would give you a quick win by increasing the adoption rate of Google Classroom. The Little SIS Sync Agent saves teachers time by creating and auto-populating rosters and guardians and the Little SIS for Classroom web application provides granular role delegation, flexibility, and insights within Google Classroom across your district through the use of tags, access filters, and user roles. This role delegation empowers everyone from school principals to IT integrators to support high quality instruction in Google Classroom. Little SIS provides continued insights to district administrators after accessing your transformation report to show granular details on progress. This increased use should increase your technology and your community engagement levels in your schools.
Google for Education Audit: An audit provides an in-depth review of your Google Workspace domain by industry experts against EDU best practices. All services and settings are analyzed; any not set up to best practices are documented and recommendations are given on why they should be adjusted and details on how to implement them for your school.

North American Google Technical Collaborative: Together with over 1,000 K12 school districts across North America and over 2,000 admins use the NAGTC to get details on the most important Google updates impacting their environment. They also have a platform to ask questions and get answers from peers and Google for Education consultants in realtime. Knowing where you are through the transformation report and keeping your team up to date with the North American Google Technical Collaborative is a good combo for keeping your environment in check.

It's important to note that the transformation report is setup to direct edtech leaders to dig into the
transformational framework
found in the Google for Education
Transformation Center
, launched nearly 4 years ago. It is a site that, until digging into this report, I knew little about. The site is a collection of resources, quick wins, and ideas to lead schools through transformational change. Interestingly enough a majority of the information on this site is platform agnostic and is more about the steps needed to institute, measure, and evaluate transformational change. If you are a school that is doing significant work around the
Future Ready Schools
initiative, you will notice a lot of overlap in ideas and themes. All the ideas, resources, and tips come from schools submitting them to the site so we can learn directly from those doing the work every day. As a technology director, I would have loved to see targeted ideas to support the work I was doing in my district.
This transformation report should be a useful tool to support you in evaluating your progress towards the educational goals your district has set. While the report isn't comprehensive enough to be looked at as a sole data source for your district, it is a starting point for conversations between the IT and Curriculum departments in your environment, and a way to begin to both quantify the impact of your Google technology implementation and communicate that impact to key district stakeholders.
Information is powerful, and these reports will give you actionable items to help you move toward transformational changes in your schools.
We recommend
signing up
for your report so Google can notify you as soon as the survey window opens in September, and using your own transformation report to start evaluating your use of Google for Education products and programs. 
For help implementing changes based on your transformation report, book some time in with our Technical Services team by reaching out to
support@amplifiedit.com.
Learn more about the various ways we can
help your team
.
Karl Hehr
Director of Delivery

About the Author:

Karl Hehr joined the Amplified IT team in 2019 after 13 years working in Public Schools as a Technology Director. During his time within the public school system, he supported one of the first 1:1 learning initiatives in Iowa and has helped move multiple districts to Google for Education. Karl is a Google Certified Trainer, a Google Certified Administrator, a founding member of the Education Plus Admins podcast, and has presented at numerous conferences around the midwest.