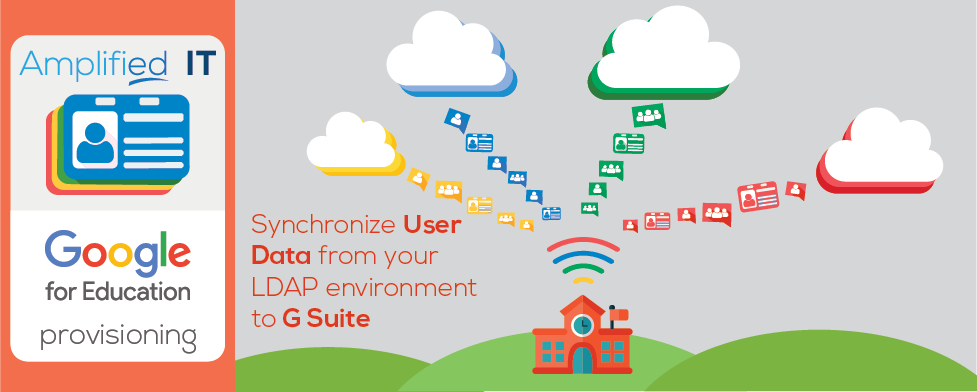 Overview

This service will seamlessly update information into your

G Suite domain straight from your LDAP environment

using Google Cloud Directory Sync (GCDS) and G Suite Password Sync (GSPS). This automation is the number one way to

eliminate confusion

and reduce wasted time while

improving consistency

across your user provisioning solutions.
What is Google for Education Provisioning?
Deployment of GCDS and GSPS

Custom configuration to synchronize data from LDAP to G Suite with thorough testing and review before live deployment.

Analysis & recommendations

Configuration guidance and recommendations of your organizational unit structure, user account naming, and provisioning.

Assistance with implementation

Implementation assistance with various aspects of GCDS/GSPS for existing systems and automation of GCDS regular syncs.

Technical review

Technical audit of existing GCDS/GSPS structure and technical reviews of your customized configuration.
What to expect during the process:
1. Kick-off meeting

Projects begin with a scoping call in which we examine specifics about your environment and begin designing a custom implementation. We discuss user names, passwords, organizational unit structure, and much more.

2. Configuration

An initial configuration of GCDS and GSPS is completed and then simulations are performed to ensure the tools are making appropriate changes. These simulations will be reviewed by your team before we deploy any changes to your environment.
3. Technical overview

Want to know how we set up GCDS or GSPS, or maybe just exactly how we map users in AD to an OU in G Suite? We will have a technical overview of the inner workings with the tools and show you all the relevant configuration within GCDS/GSPS, how to make changes, and basic troubleshooting.

4. Ongoing support

Whether we set up your GCDS/GSPS configuration or you need assistance with a previous deployment, we are here to offer you ongoing support and consultancy.