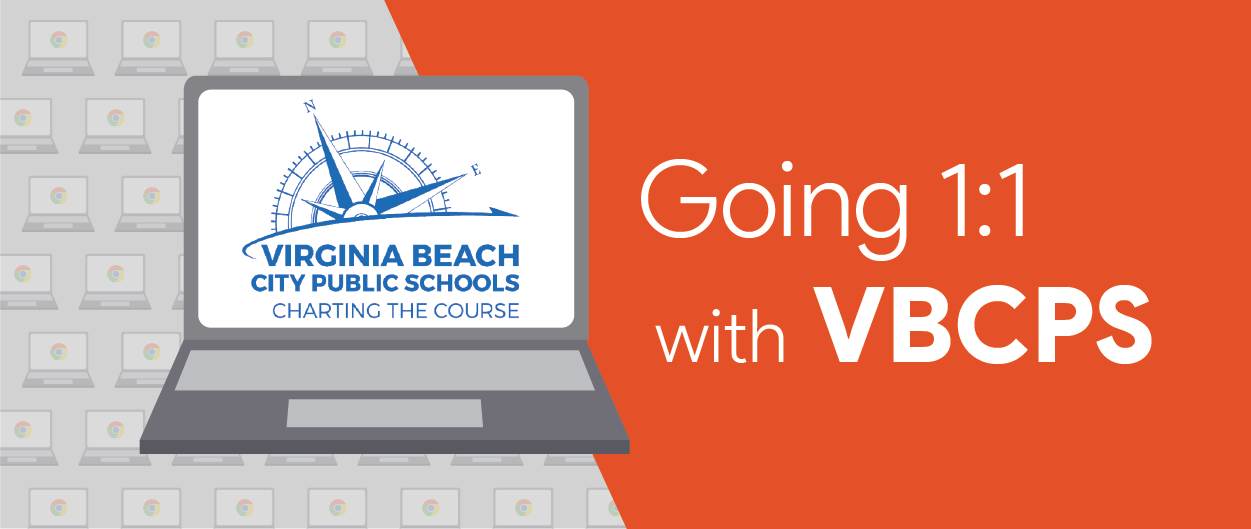 So you're going 1-to-1?
With a new school year quickly approaching, I've been talking to a lot of people who are in the process of going 1-to-1 with Chromebooks, or are planning on doing so in the next year or two. In the conversation I always get asked, so what is it really like? I know the experience is going to be different for everyone, but I wanted to share a little bit about what it was like when we started our 1-to-1 journey at Virginia Beach City Public Schools.
Introduction
Before coming to Amplified IT, I worked as a Network Technician II in the IT department at Virginia Beach Schools, helping to support over 70,000 students between the 86 schools within the district. I joined Virginia Beach's team just as they were kicking off their five-year "Compass to 2020: Charting the Course" strategic framework. The primary focus for this initiative was to ensure that every student was challenged and supported for reaching his or her full potential. To do that, we needed to provide a personalized learning opportunity for each student supported through digital resources. This brought about our 11 school pilot program, where we replaced textbooks, paper and pencils with Chromebooks. In doing so, we witnessed not only a transformation in the learning environment, but an exceptional jump in innovation and a student mind shift that progressed in ways which far exceeded our expectations. 
With the success of the pilot program, the Teaching and Learning department launched their 1-to-1 device initiative for grades 1-12 in July of 2017, and approved the purchase of 22,000 Chromebooks. The reality of the initiative set in quickly, when the pallets of Chromebooks started showing up, filling our warehouse from floor to ceiling. With the expectation of our schools having their Chromebooks delivered to them before the teachers returned in August, we had to pick our jaws up off the floor and get moving. 
Lessons Learned
We tried a number of different "assembly line" approaches in order to get all 22,000 devices asset tagged, manually updated, and hand-enrolled. Once the initial work was done, it was on to the tedious process of getting them all moved into the correct OUs within the Google Admin console. The technology team hired a number of temporary employees with the mind-set that the more hands we had, the faster we would get done,
and boy were we wrong.
We are all human, and all humans make mistakes. With that many hands in the proverbial Chromebook pot, we ended up with a lot of mistakes. Trying to find one serial number in a stack of boxes so you could fix the asset tag in the Google Admin Console, took more time than I'm willing to admit. And I don't know how many times we had to power wash devices because we forgot to hit Ctrl + Alt + E before signing into a device for the first time. Granted, all the struggles provided great teachable scenarios, but in the moment, we were beyond frustrated. Unfortunately, even with 8 weeks allocated for getting all the Chromebooks up and running, we were unable to get all the Chromebooks delivered to the schools before school started. Not a great start to the initiative, but it provided a lot of determination to make things better for the next round. In total it took a staff of 20 to roll out all 22,000 of the Chromebooks.
Pilot Deployment
Part of the 1-to-1 initiative included migrating our technology platform to G Suite. We were working with Amplified IT on our G Suite integration, and found
Centipede
and
Gopher for Chrome
in the process. Centipede is an open source code that gets uploaded to an Arduino microcontroller. Once you plug the Arduino into the Chromebooks, it goes through all of the enrollment steps for you without having to manually sit there and click through the prompts. Gopher for Chrome is Google Sheets add-on that enables you to perform bulk actions and updates to your Chromebook fleet, and then push it up to the admin console.  The idea of having a semi-automated process to enroll the Chromebooks was music to our ears, but posed some issues of its own while we were testing. For starters, Google loves to change their processes with every new OS release, whether it's a major release or not. If you work in the Admin Console, you know that those OS releases happen often – roughly every 2-3 weeks. So tweaking the timing and tabbing on the Arduinos was something we had to get used to. We also had to open up our content filter restrictions for the devices that connected to the access points in the warehouse, as it was preventing the Terms of Services screen from loading, thus throwing off the code sequence. Nothing that put a hard stop to the testing, but hurdles nonetheless. 
The district purchased a couple thousand more Chromebooks that winter for us to complete 1:1 in another 5 district schools. This gave us the opportunity to really test the Arduinos and Gopher for Chrome setup before our next big push in the summer of 2018. Once again, Google had made changes to the enrollment process, so adjustments to the code were needed. We also tested out using OU-specific enrollment accounts to prevent us from having to move all of the devices to their respective School OU's after enrollment. This worked like a charm, well, with the exception of CAPTCHA. We couldn't figure out why it happened, but every 10 minutes we would have to go into the account and turn off the "Password Challenge" option in the security section, otherwise, CAPTCHA would pop up after the account's password was entered. It was annoying, but worth it to have all of the devices enroll into their respective OUs automatically.
Enrollment Masters
Fast forward to the summer of 2018, we were in the final stage of our 1:1 initiatives with the arrival of the last 19,000 Chromebooks and finally we felt like a well-oiled machine. Using a USB drive to update the Chromebooks OS version first, ensured that all of the Chromebooks were functioning properly and starting at the same version. After being updated, the device was asset tagged. Using Centipede and OU-specific enrollment accounts as the next step,
we were able to cut the enrollment time from 10-15 minutes per device to under 1 minute.
We had the code stop at the Asset Tag/Location screen, allowing us a moment to manually type in those fields, and then we shut down the Chromebooks. Lastly, using Gopher for Chrome we were able to review and fix any details for the Chromebooks in that OU and then push the updates up to the Google Admin console. This also gave us the ability to download the device information and import that device information into our Asset Management program.
With the 1-to-1 initiative complete, and all 86 schools now having Chromebooks, the focus pivoted to maintaining the fleet. TestNav (the state testing application) has operating system requirements, so using the device's AUE (Auto Expiration Date) proved to be the best way to forecast when and how many devices would need to be replaced. Monitoring hardware repairs also helped with forecasting replacements. Virginia Beach opted to repair their devices in-house to gain better insights and expedite repairs, so these metrics were easily obtainable.  
Like I said in the beginning, everyone's process for going 1:1 will look differently depending on how you choose to tackle deployments. However, I'm hoping this will help or prevent you from some of the newbie struggles that my IT team experienced at Virginia Beach Public Schools before we learned there was an easier way. If you have questions, or want to talk through the steps you guys are using for your project, don't be afraid to reach out!
Andrea Frendo
Support and Onboarding Specialist

About the Author:

Andrea lives in Virginia and is based in Amplified IT's home office in Norfolk. She came from a local 1:1 school district of about 70,000 students, where she ran their hardware support team. Today, she has taken over the Labs support center and enjoys building relationships with customers and helping them overcome obstacles to achieve their goals.