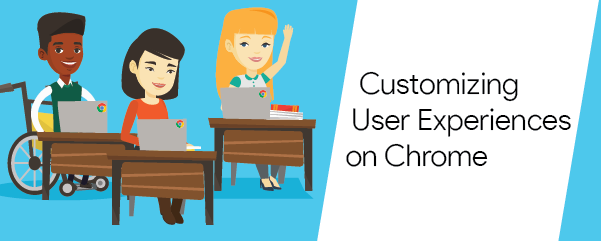 School is fast approaching and soon (if not already) students will be firing up Chromebooks in classrooms across your district. You can become the hero that your district didn't even know they needed! Navigating websites, creating Google Drive files, accessing Google Workspace services will be a common task for students. So how can Google Workspace administrators make back to school even easier for students and staff?
Curating a user experience from the time a Chromebook boots up, to the first page a student accesses, can save valuable instructional time and alleviate unnecessary hurdles. By taking advantage of Chrome user and device settings, you can create a seamless user experience that is beneficial to both students and staff.
So where do you start? As we look at the Chrome user settings, one of the most underutilized settings is "Pages to Load on Startup." Students are typically accessing the same webpages day in and day out and at the very least they are opening up their Google Drive and Gmail. As an administrator you can make take this task off their plates by configuring the pages that should open (Google Drive, Gmail, Google Classroom, single sign on portal) within the Admin console.
If students and staff have different pages they access, no worries! You can define pages on startup for your different organizational units. 

Chrome extensions are another area we can leverage to guide students to the apps and extensions that we have vetted and find to be appropriate for school use. An average student navigates to the web store and scours the web store for "interesting" apps and extensions. In the web store they will find games, themes, and even an app called the Panic Button (it hides your browser and opens a fake Google Doc to make it look like you are working). As a former teacher and Instructional Coach, I saw first hand the amount of time and energy students spent searching in the web store. To avoid this time wasting endeavor we recommend "Blocking All Apps except for the ones I allow" for students while setting "Allow all apps except for the ones I block" for staff. 

This enables staff to search for useful apps and extensions which an administrator can then whitelist for students. But let's take this one step further. When a student opens the Chrome web store they are launched into the main page where they can see all the apps and extensions within the web store. Although the setting in the Admin console no longer allows them to add whatever app they would like, but this doesn't deter students from still trying.
In steps the Super Admin superhero. By setting up a custom web store on the students OU you can launch them into a custom screen where curated apps and extensions are displayed front and center.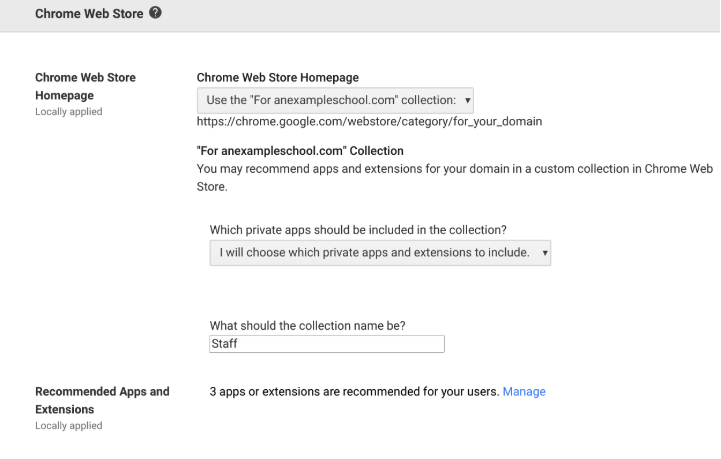 Additionally, we all know that communication with students is key and most messages and announcements are missed by students. What if we leveraged a medium that students used almost every single day? Chromebooks are a perfect medium for placing important announcements and information in front of students every day. In Chrome device settings, you can choose to upload a wallpaper for your devices. By using a tool like Google Drawing to create a wallpaper you can download as a jpeg and upload it as the background for your chromebooks.
Some schools are using this feature to announce chromebook checkouts, modified school schedules, reminders of holidays, reminders of events and tickets on sale, weekly announcements and so much more!

What about a one stop shop for all of your links and resources? As an administrator we are aware of many of the resources schools use on a daily basis. Similar to how we curated the Chrome web store, we can also curate a list of resources and links using managed bookmarks in the Chrome user settings. Compiling all of your resources into one space is easy and managed bookmarks will prevent end users from editing or deleting the bookmark folder.
The folder is placed on the far left side of the bookmark bar and is marked with a building icon to represent it is a managed bookmark folder. Finally, enabling the bookmark bar will ensure that users will always have access to your curated folder.
Alternatively, instead of adding a long list of bookmarks to the folder, many schools will create a published
Google Site
or a published
Google Doc
to host the links and resources in a single viewable page. Either way you approach it, providing helpful links and resources will allow your users to quickly access the sites they need.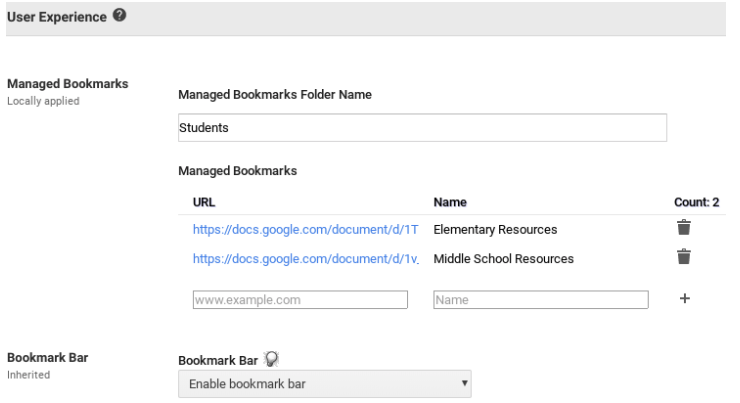 When our users walk through the door after summer break we want them to have the best experience possible and we can manage that experience via the Admin console. Configuring Chrome user and device settings allows us to create an experience that promotes efficient workflow and immediate access to the resources seen as beneficial to the learning environment.
There are hundreds of Chrome user and device settings that we can leverage for security, but often user experience is one that is overlooked. But maybe it is time we stop and think of how we can promote the best user experience possible. To learn more about how you can configure settings to promote positive user experience
connect with one of our Google for Education consultants.
Kendal Shomura
Google for Education Training Consultant

About the Author:

Kendal Shomura joined the Amplified IT team in 2018 after 7 years working in Public Schools as an educator, Instructional Coach, Technology Integration Specialist, and as a Professor in Masters of Educational Technology program at Touro University. He spent 3 years as a Google Administrator while training staff on how to integrate Google Workspace tools into their classrooms. Kendal's wide array of experiences with Educational Technology allows him to understand the important nuances of technology in schools. Today, he is a Google for Education Consultant who works to help schools better understand their Google environment and empowers them to configure Google Workspace in the most optimum way for student safety while still allowing for robust usage of the tools.