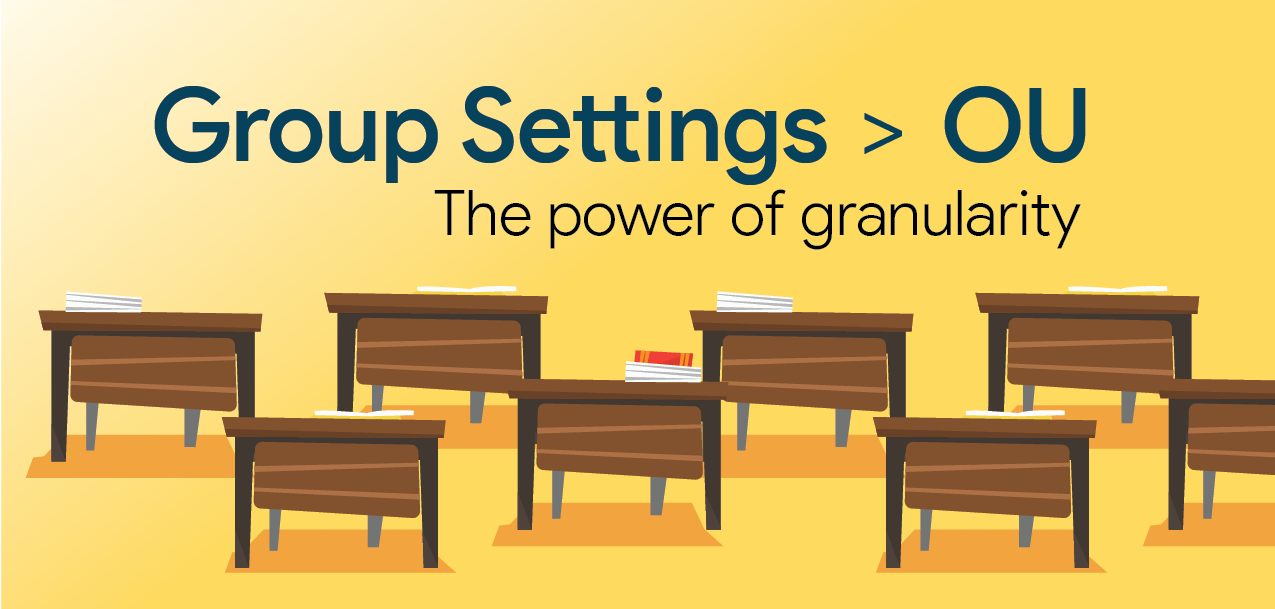 As technology teams get ready for the new school year and the annual rollover of moving users move from one grade to the next, it is easy to keep doing things the way they've been done year after year. After all, if it's working, why change it?
One major argument for change is the fluidity and innovation of Google Workspace and how the landscape is always changing.
With the added features that have been given to Google Groups, for example, you can vastly improve your user's experience and customize controls in ways that were previously unavailable. Additionally, users may be able to use Groups in ways that you haven't taken into account in previous years.
One of the major feature releases that came out over the summer was group settings control within Google services.  This is more than turning a service ON for a specific group. It's setting features like external sharing of files. Our consultancy team has recently done a

vlog post
on this feature and the many implications that come along with it. 
The settings applied to a group can override settings that are applied to an organizational unit, making this feature extremely helpful for groups like a penalty box, parent teacher organization, leadership groups, technology teams, etc. Some schools have created an "Acceptable Use Policy Turned In" group which students are added to when they turn in their AUP. Once users are a member of this group, the services are enabled and settings configured.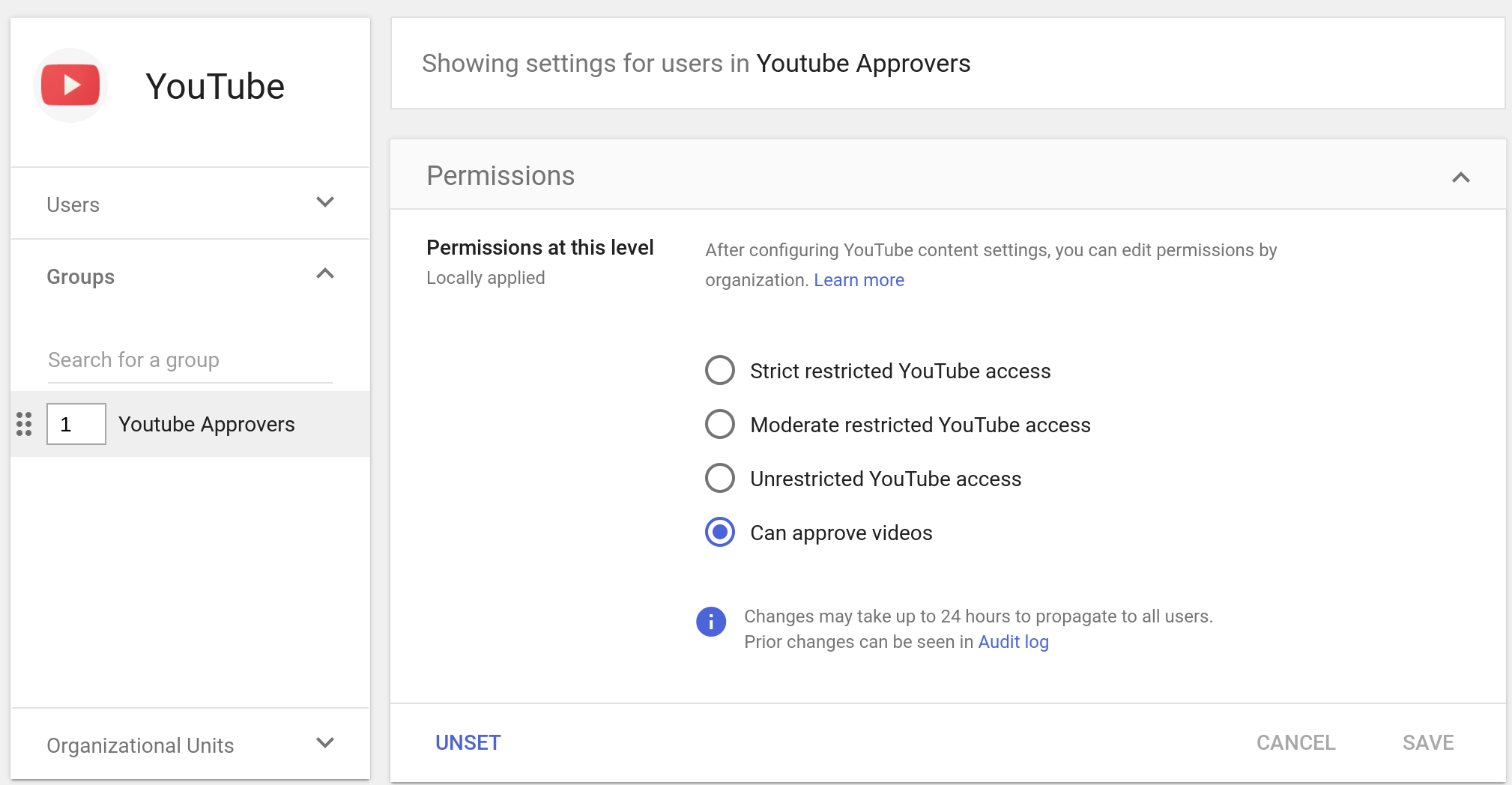 The decision to list a group in the Global Directory is not generally taken into consideration either. This is typically because the ability to hide a group from the Global Directory is not exposed in Google's Admin console or in the group settings page. In order to hide a group from the Global Directory, you have to use an API call. There is some confusion here since there is a setting to hide a group from the Groups Directory. The Groups Directory is the list of Google Groups found at groups.google.com where the Global Address List or Global Directory is the directory used for autocompletion in all of Google's products.
Speaking of the auto-complete, Directory visibility was another feature that Google introduced since last time most schools performed their rollover. This leverages Google Groups again, and this time limits which users appear in an OrgUnit's auto-complete Directory. Several schools have used this not only for discouraging Student communication to students in different buildings, but also to stop student email addresses from populating in office staff's auto-complete.
This significantly reduces the number of accidental emails that are being sent to students that were intended for staff eyes only. One thing to be aware of is that we have observed that populating the Custom Directory can take up to 72 hours if you are including nested groups within the new directory.
With all the emphasis on Google Groups, it's important to get management of membership set right. Google Cloud Directory Sync (GCDS) allows admins to sync Active Directory Groups into Google. For schools that actively maintain all their groups within AD, this fits a wide complexity of Groups. When GCDS creates these Groups, they will follow the template for a restricted group, only allowing certain individuals to post to the group. Depending on the nature of the group, this may not be appropriate, and it is not an easy thing to look at each Group's settings. 
For this reason, the Amplified Labs team developed
Gopher for Groups
. Gopher for Groups provides you not only visibility of all group settings, but also the ability to change them in bulk within the Spreadsheet interface. Gopher for Groups also includes the ability to hide each group from the Global Address List, the all important setting that is missing from the Admin console.

There are several use cases for other Groups that perhaps would not be managed by the technology department: sports teams, club teams, parent-teacher team groups, etc. Since having these groups in Google means that group owners (and possibly members) would have the ability to send and receive emails as the group, it's important to lock down the creation of Google groups. Within GCDS, an optional flag to prevent group deletions can be configured to stop GCDS from removing any admin created Google Group that it doesn't find associated within AD. With this flag set, we are now ready to create managed groups that the IT department is responsible for configuring posting permission and visibility for, but have delegated the membership of the group to another person, whether teacher, secretary, or student.
Group Gator

is another tool made by the Amplified Labs team to assist in just such an environment. Delegated access is granted through the tool, requiring no additional Admin roles be assigned to the delegated managers. Whether the group is for sharing files and calendars, setting up a mailing list, or configuring who users can see in their auto-complete list, Group Gator allows admins to delegate the part of the group role that is important to them, namely who is a part of the group, while leaving the configuration and management of the group's settings to the technology department.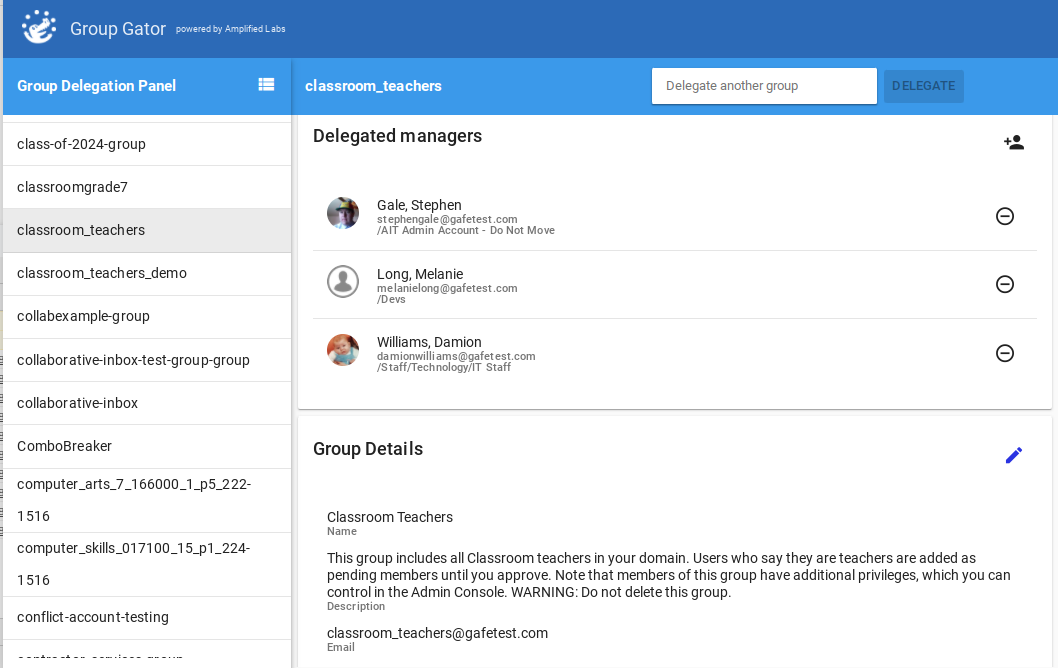 Google has been putting a lot of effort into making Google Groups more functional within the Google Workspace environment. They've improved the settings page for each group and have added features in the Admin console that open new possibilities for the usage of Groups. Where groups for students have often been an afterthought in the annual rollover, perhaps it's time to take a deeper look at what we're missing out on by simply doing things the way they've always been done.
If you would like assistance with managing your settings or training your team, book some time in with our technical services team by reaching out to

support@amplifiedit.com. Learn more about the various ways we can help your team.
Stephen Gale
Technical Support Analyst

About the Author:

Stephen lives in Utah and enjoys the puzzle of investigating users' problems and finding potential solutions. A recovering/reformed gamer, Stephen throws himself into his passion for staying on top of all things Chrome OS and Chromebook related. Prior to joining Amplified IT, Stephen served as a network admin in a therapeutic boarding school and an IT director, where he implemented Google Workspace for Education. Stephen has studied computer science and security at Weber State University, Western Governors University. A self-anointed honor, Stephen likes Chromebooks more than almost anyone else in the world.