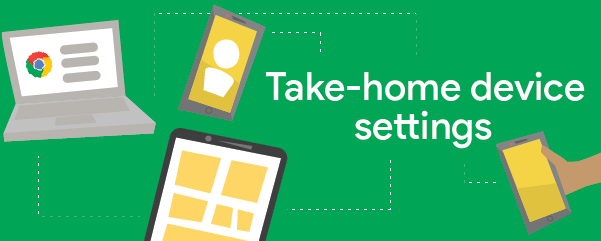 Over the last few weeks, several schools have had to pivot their classroom technology from a cart base or stay at school model to a take home situation. As schools have been doing this, one of the most common concerns that has come up is "What settings should we have in place now that we're primarily a take home program?"
One of the major benefits of Google Workspace for Education and Chrome profiles is that the settings follow the account. With this in mind, administrators can rest easy knowing that when users are signing in with their managed accounts on unmanaged devices or Chrome browsers sessions, users will receive the same user policies as though they were on managed devices. However, users can opt out if the browser sign-in setting is not set to "Force users to sign-in to use the browser."

This setting forces Chrome Sync to be enabled for users and ensures that settings configured in the Admin console applied to Chrome Browser on PC/Mac/Linux and Android all have the same applicable policies applied.
Aside from making sure that users are getting the policies applied wherever they login, we need to make sure that Chromebooks, which were originally not leaving the school property, are now able to access the internet from student's homes. The
network general settings page
allows admins to restrict which networks automatically connect or completely block users from accessing a network (after the sign-in screen). These settings are very common in schools where devices never go home, but can create havoc when setting up a remote learning environment.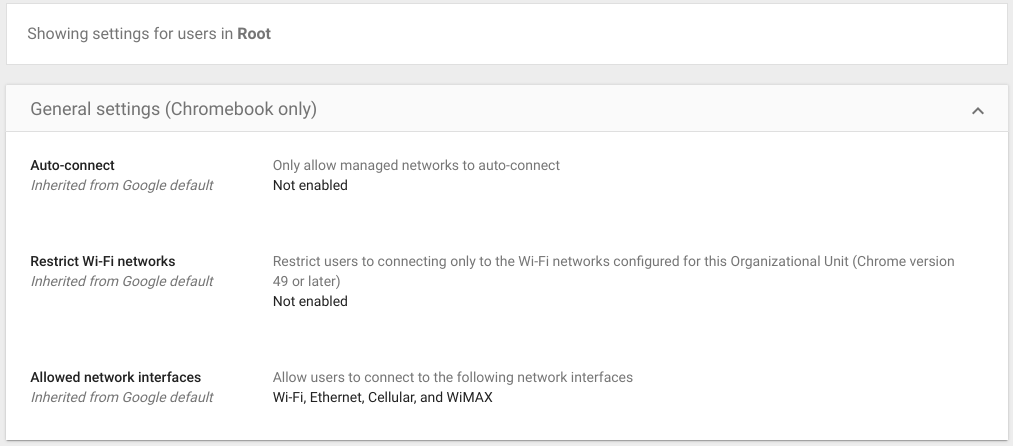 Moving down the list of settings to be aware of are a couple of settings in the
user & browser settings
of the Admin console. These specific settings are designed around recent security updates the Chromium team has made to third party cookies. With version 80 of Chrome, web developers needed to update how they handled cookies from third parties. The issue is that not all educational websites have made the move to the new behavior. As a result, when users try to sign-in to a site with the Google button, nothing happens.
If you happen to know which sites are causing this issue, the responsible thing to do is raise it to the developers attention. Administrators can whitelist this behavior on a per site basis, which would be the preferred manner of reverting to the "legacy" behavior. However, with everything else which has been happening, and IT admins wanting to enable learning for students, more often than not the blanket behavior is chosen, and all sites are opted to the "legacy" behavior.

While in the cookies section of the user settings page, just above the SameSite cookie behavior is an administrative option to force allowing cookies for certain sites. While blocking cookies on Google sites can cause serious issues, including problems which would open the opportunity for a user to be not signed in on a portion of the browser, adding Google and Youtube to the Allowed cookies list is prudent.

There are several other settings which could be considered in this list of considerations when experiencing this abrupt and drastic shift in education technology application. A handful of configuration to consider from the device settings would be the sign-in screen behavior, update restrictions, or app-controlled updates. Each of these settings affect the end user's experience before they sign-in to their managed devices. Offline syncing is another helpful setting in the user & browser settings and allows students access to their data, even when they may not have reliable internet. 
Having a central focus on users rather than devices has enabled Google Workspace to remain agile and has allowed administrators to make these changes on the fly, even after devices have been sent home to work with students. And when all settles down and traditional school is back in session, it becomes just as easy to set things back to the way they were. If you have additional questions on settings or device management, connect with your regional account manager to coordinate training or support.
Stephen Gale
Technical Support Analyst

About the Author:

Stephen lives in Utah and enjoys the puzzle of investigating users' problems and finding potential solutions. A recovering/reformed gamer, Stephen throws himself into his passion for staying on top of all things Chrome OS and Chromebook related. Prior to joining Amplified IT, Stephen served as a network admin in a therapeutic boarding school and an IT director, where he implemented Google Workspace for Education. Stephen has studied computer science and security at Weber State University, Western Governors University. A self-anointed honor, Stephen likes Chromebooks more than almost anyone else in the world.