These updates and timeline are written as of 1/13/21
To say that 2020 brought a lot of change would be an understatement. Typical years are tough enough to try and keep up-to-date with Google and Chrome changes. How could you prepare for a health crisis that threw your plans, roadmaps, and goals out the window? Short answer, you couldn't. You had to adapt to support the new and ever-changing needs of teachers, students, and guardians.
We all did our best to answer questions, create workflows, and solve problems in the moment. The nature of the year may have left you with little time for proper thought and planning. Because of this, it is possible that some crucial updates went unnoticed. Some of these updates affected services that were never given a second thought. But in the blink of an eye, these became essential in education. 
That's why I felt it was important to pause and reflect on the 2020 Google updates. It's a great time to remind Google Admins of some of the most important updates. There were more than 350 updates discussed in the North American Google Technical Collaborative (NAGTC) this year. Here we'll review only a few. The updates that made this list focus on communication, collaboration, Chrome Management, and Admin Console Management. As we go, we'll look at the impact, actions, and how each update fits into our long term journey. 
Here are 10 updates from 2020 worth reviewing: 
Quick Access & chat/present settings will now stick after a Meet ends. Before the update, settings reverted to the default when everyone left the meeting. When this happened, students could get into old Meets. This is only for non-nickname Meets.
Impact
Sticky settings solve the problem of students getting into old Meets. Teachers can now disable Quick Access and it will stick after the Meet ends. If students try to access the Meet, they are stuck in the waiting room because the host needs to accept. The teacher must enter first as they are the only ones who can accept the knocks.
Actions
Admins should:
No longer block Meet URLs to prevent access. Disable Quick Access instead

Communicate to teachers about the Quick Access workflow
(2.) Use the Meet quality tool to get insights into Meets
While the Meet Quality Tool is not new this year, it's become a Google Admin's go-to for troubleshooting Meet issues. 
Why use it?
Use the Meet quality tool to view Meet details. Here are some of the details:
Network statistics

Duration

Mute

Participant engagement

Removals

Feedback

Join ongoing meeting
You can use the Meet quality tool to explain why teachers don't see host controls. You can also confirm whether a student was removed from a Meet or left on their own. This is also where you can check to see if a meeting has a recording.
Navigation
Apps > Google Workspace > Google Meet > Meet Quality Tool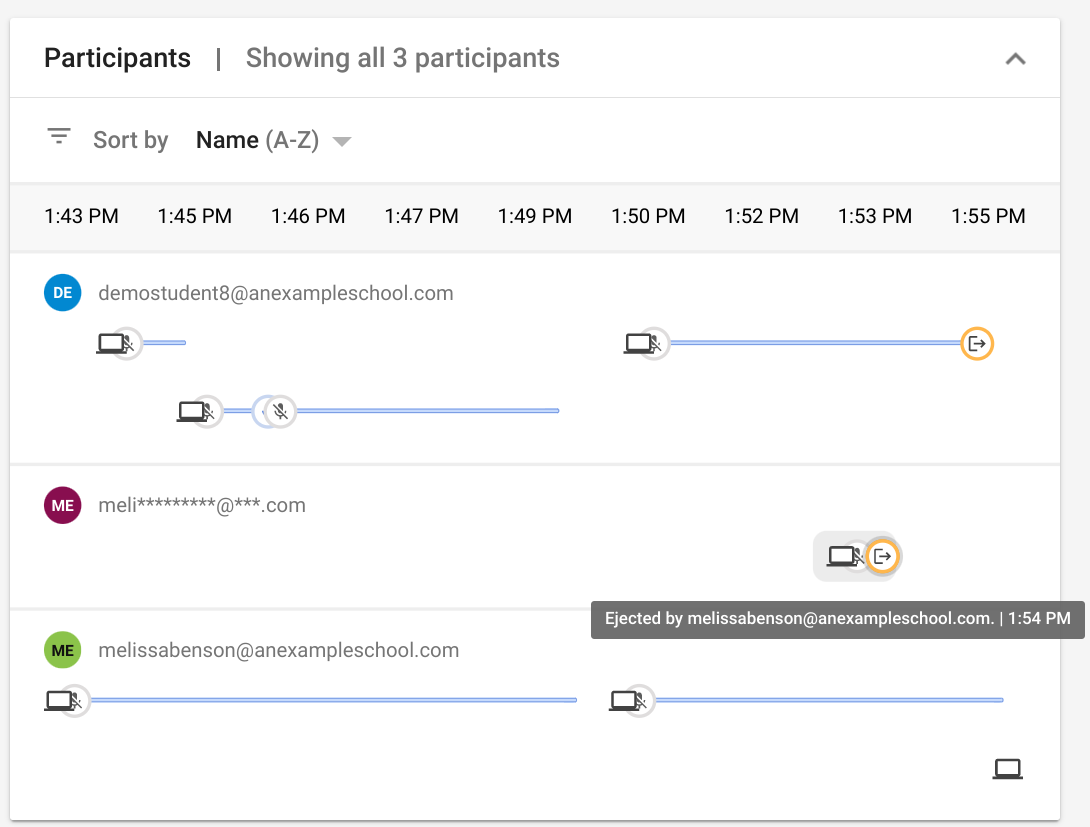 (3.) FAQ: Can I disable chatting for students?
Here's an update from our
last
 blog post about Chat and Meet becoming separate services. In the blog, I added a warning for those creating Meets with the g.co approach. The issue has been fixed. Now all domains can safely turn off Chat for students if desired.
Question:
Can I disable chatting for my students but still allow them to use Meet?
Answer:
Yes. Now that Meet and Google Chat & Classic Hangouts are
separate
services, you can turn off chat and keep Meet on.
Navigation
Apps > Google Workspace > Google Chat & Classic Hangouts > Service status (see gif)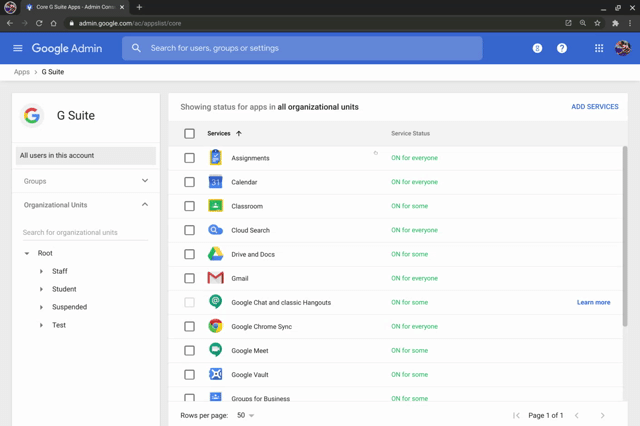 Folder sharing in Shared Drives rolled out to everyone in September.
Impact
This was one of the most popular feature requests. Users are now able to give different sharing rights on folders within a shared drive. This could change the way you structure and create shared drives.
Actions
There are no admin actions required to turn this feature on. It is automatically rolled out to users

I recommend you review your Shared Drives structure and plan
(5.) New Google sites has split the edit and create settings
Use Case
Teachers may not want students to create sites. Yet, they may want to give them editor access to a site they've created for them. Separating edit and create settings lets teachers better define student abilities for sites. You can set these settings per OU or group.
Navigation
Apps > Google Workspace > Sites > Site creation and editing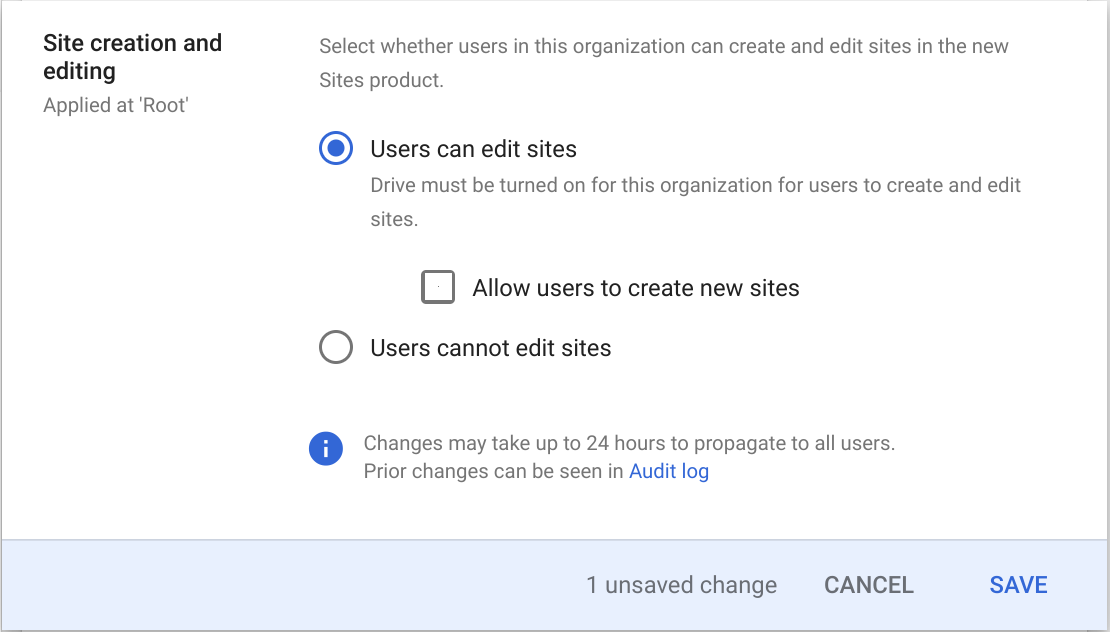 (6.) Force Chromebooks to reboot after ChromeOS update
In Chrome v83, you're able to configure relaunch notifications and force Chromebooks to reboot when an update is ready. 
Use case
The student's device gets an update but the student never reboots for it to apply. Admins can configure this new setting to ensure the device gets rebooted to apply the update.
Navigation
Chrome User & Browser Settings > Chrome updates > Relaunch notification > Force relaunch after a period
Note
: Reboots only happen during 2 am – 4 am local time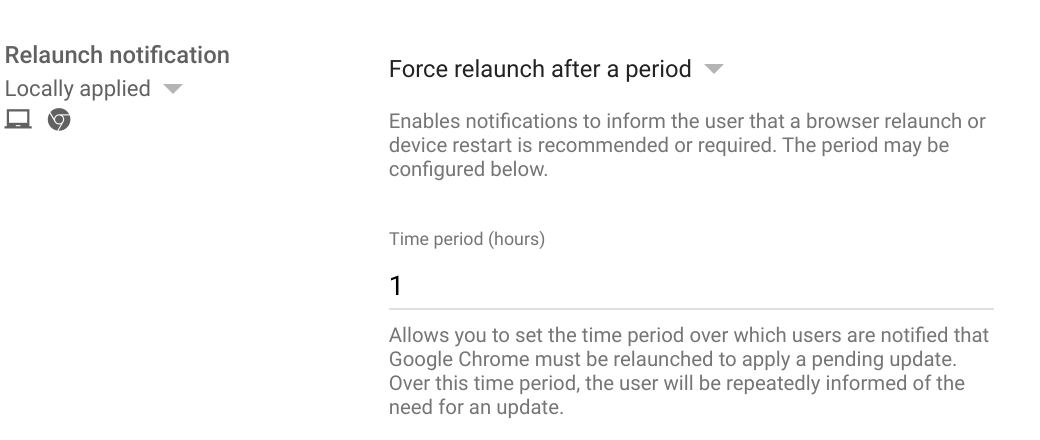 (7.) Troubleshoot remotely with clear profiles & factory reset
Problem
Sometimes Chromebooks need their data wiped. With remote learning, we don't always have physical access to the device. 
Solution
You can remotely access Chromebooks from the device listing. 
Device listing > [select device=""][/select] > Reset > Clear User Profiles or Factory Reset
Warning
: When you reset a Chromebook, the student will need to enter in their wifi information to get online. Then, your policies will pull down. If students are at home, make sure they know their wifi password first. 
Best practice
It's recommended to try and clear profiles first and if that doesn't resolve the issue try resetting.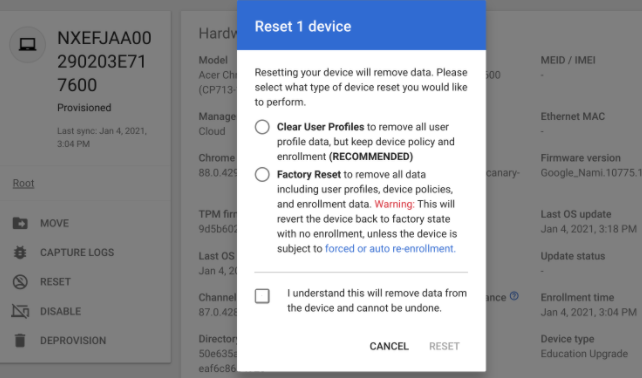 (8.) Migration of Drive DLP rules to new system
Between August and September 2020, Google migrated any Data loss prevention (DLP) rules to the new DLP system. 
Impact
The new DLP system offers many improvements including:
Avoiding false positives

A more flexible configuration

Easier management
Migration has already happened and access has moved to: 
Admin console > Security > Data Protection
Actions
Check to make sure your DLP Rules migrated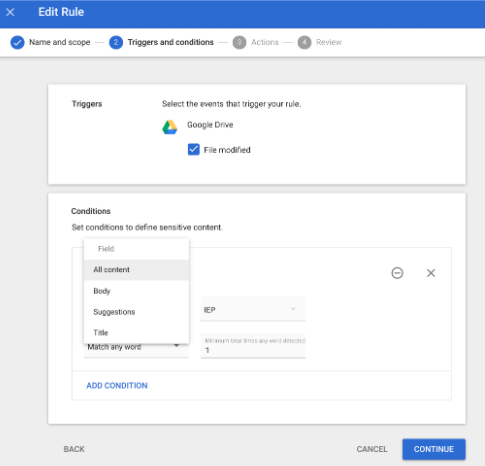 The Admin console now has a 2SV section under Security with an easier workflow. It offers the ability to enable 2SV per OU, where before it was a global setting.
Impact
A best practice is for all super admins and high priority users to enable 2SV. It's encouraged for all staff as well. One hurdle schools encountered was students enabling 2SV and using it as an excuse to not be able to log in. Now, all schools should be able to follow best practices by allowing 2SV for only desired staff.
Actions
Admins should revisit their 2SV policy and adjust if needed
Admins can now block apps that use OAuth 2.0 via API Controls, previously called API Access. It will block the app from iOS, Android, and the Web.
Impact
Before, admins could only use the API Access Controls by disallowing all apps and maintaining a trusted list. This was hard to manage, so few schools used it. You can now block the high-risk apps without making a drastic and disruptive change.
Use Case
You see users are installing TikTok. You block the TikTok app via API Controls & users will see a custom message when they try and install it.
Actions
Discuss with your team to decide whether you will be utilizing blocking
Reviewing 2020 Google updates is so important because everything was in flux. The constant change made it hard to keep up. You probably couldn't stop and reflect on updates unless there was a problem. As a Google Admin, you're unfortunately in the Admin console reactively rather than proactively. Oftentimes you put in place a bandaid fix instead of best practice. Those fixes might hold now. All it takes is a clever student or a change in your school's plan, or another Google update to reveal new issues.
You may have addressed some of these updates already. If you haven't, I'd recommend creating a draft roadmap. Use this to bookmark the updates you want to implement and detail your plan for their implementation.
As I've mentioned, there were 350+ updates Google updates in 2020. While we covered just a few here, we did cover the majority in the North American Google Technical Collaborative (NAGTC). If you are not a member of the NAGTC, consider joining. This is our platform to learn and share. Reviewing the latest updates is a large part of what we do in the collaborative. Don't Google Workspace alone – join us!
Melissa Benson
Google for Education Technical Collaborative Lead

About the Author:

Melissa has been a Google Workspace for Education Consultant for Amplified IT since 2015. She began working with the Google for Education (GFE) Admin console in 2008 where she helped implement and integrate Google Workspace and Chromebooks into multiple K-12 school districts. Now, as part of the Amplified IT Team, she continues to help schools set up and manage Google Workspace environments with educational best practices with an emphasis on facilitating the North American Google Technical Collaborative.