With Chromebook popularity continuing to rise at an exponential rate it's always a good time to "Talk Chromebooks" 
In this post, we will remind you of some previously shared information, some new tips/tricks and provide some areas to consider as you continue to manage, grow, and leverage your Chromebook program.
Let's start with some good solid tips to help you with your everyday management of Chromebooks.
Are you having issues getting your Chromebooks updated?
Make sure you don't have any
restrictions set in Device Settings
for your Auto Updates. We encourage you to stay as current as possible, some district stay current to the most recent stable version, some feel safer staying one version behind. If you decide to stay one version behind give yourself a calendar event to check this setting every four weeks to ensure you keep moving it forward as appropriate. Did you know Chromebooks update in the background to another partition?  They are simply waiting to reboot to put that update into use.
Consider setting the Action on Lid Close setting in Chrome Management User Settings to – Log Out. Google stipulates that during the lid close and open cycle the device will reboot thus allowing the update that is waiting in the background to load  (This is only effective if you are allowing updates to devices and don't have any restrictions set, ie: the update has been loaded into the background and is awaiting the reboot). Some districts only set the 'Action on Lid Close' setting a few times a year versus having it set year-round, for example, the third Friday of every month.  We want to make sure to protect that precious classroom time that can be impacted by having Chromebook users always have to login after opening the Chromebook. Don't forget how our

Gopher Buddy Extension

can help keep your devices up to date as well by prompting students to help with the update and reboot process. 
Stuck trying to figure out why a Chromebook is misbehaving?
Here are some troubleshooting tips: Try
logging in as the user on another system and disable all extensions
 – you might have a grumpy extension, too many extensions, or an outdated extension causing the issue. Also, it might sound like a no-brainer, but it is still worth mentioning to make sure your device has the most current policies from your Admin Console. You can do this by navigating to Chrome://policy – check the last fetched time to see how current the policy is and/or click on reload policy to get the most current version. Still no luck? Don't stress too much! Just
Factory Reset your device
– this is a quick and easy way to solve most problems and thanks to the wonders of the cloud, no users data will be lost.
Do you understand how policies are applied to devices vs users?
Here is an excellent graphic and
support article
that helps explain this area of G Suite and may help explain an issue you are having based upon conflicted policies.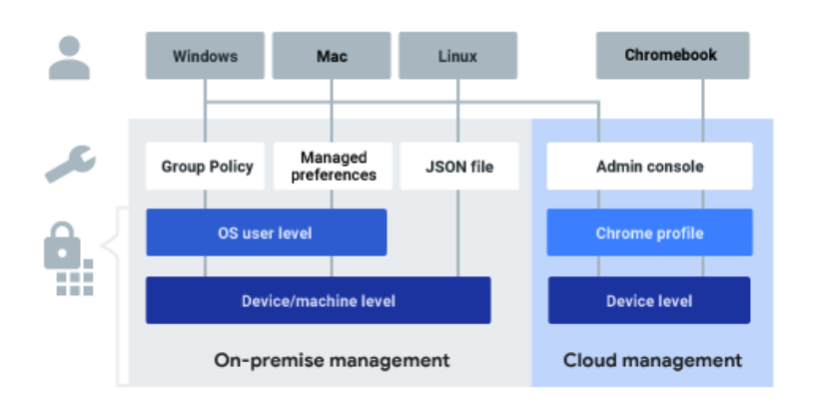 Have you noticed the new Chrome Management Console?
Here are some quick things to pass along that you might be excited to hear:
To access usable information in your DHCP server for connecting Chromebooks you should go in Chrome Management – Device Settings – Other Settings – there is a new settings called Device Network Hostname template.   Simply enter the Asset_ID, Serial_Num and/or Mac Addr templates and this information should populate into your DHCP system.
There is a great new filter option called "Where defined" that helps us identify if something is applied locally to the OU or if it is inherited from a parent OU or the root domain. This can help us track down those settings we changed long ago or that might have gotten lost in the mix as we used G Suite over the years.
Just in case you can't find a setting that you remember used to be there, you can still access the old version of the console by clicking on 'What's New' in the top right-hand corner and selecting Open Classic View. Note – we have no idea how long this ability will remain, so play around in the new console and get used to the new layout – it is much faster by the way (check it out).
2019 is quickly coming to a close and it may seem early, but no time is better to start thinking about your Chromebook Lifecycle.
Do you have devices coming up to Auto Update Expiration?
If you are not sure, you can quickly get insights on your entire fleet using Gopher for Chrome or manually

checking this link
to compare the latest available AUE dates against the various devices in your fleet. Remember a Chromebook is still licensed and managed after AUE, it just may not get the latest OS update and it is not recommended that these AUE devices be used for mandated testing programs. New Chromebooks get 6.5 years of AUE support, but it is important to understand this clock starts not when you purchase the device, but when the first device of that model is released. Note – some vendors use pre-released hardware for new versions of Chromebooks thus shortening the AUE for those newer models.
Always check the AUE before purchasing a new batch or Chromebooks.
Don't forget to check out some previous blog posts related to Chromebooks a quick refresher never hurts.
As we wrap up, I will leave with a few questions to ponder: 
Have you started rolling out Chromebooks to teachers and staff?  Is it time and what kind of repair and insurance program are you using?
Student Repair

In house tech repair

Warranty

Outside vendor

Are you moving to a 1:1 environment?

Do you allow take home?

Do you have students turn in the devices during the summer?

Have you seen major issues with your take-home program?

What would you tell another district that is moving towards a 1:1 take-home program?
Lots of questions as well as things to consider, I know, but it's the fine details that end up making what we do as G Suite administrators easy-peasy or a giant headache. That is also my cue to remind the technical teams out there working with Chromebooks that are new, old, and somewhere in-between, that we are here to help if you'd like the extra support. Drop us a line to connect or keep reading about ways we can help your team with Chrome Checkup or an overall G Suite domain Audit.
About the Author:

Carl has been a G Suite for Education Consultant for Amplified IT since 2017. After serving in the US Navy as a Network Administrator, Carl continued his career by migrating into the education sector where he found his place as a Technology Supervisor for nearly 10 years and Technology Director for 2 years in his home state of California. Now, as part of the Amplified IT Team, he continues to help schools set up and manage G Suite environments with educational best practices.