G Suite Enterprise launched in the spring of 2018.  Since that time, there has been increased interest and some common questions from districts looking to add to what they currently receive with G Suite for Education. In this post, we will walk you through the top features and some EDU use cases of Enterprise.  We encourage you if you'd like to learn more,
book a call
with our team and we can talk you through features, pricing, set you up with a free trial and more!
To start, how is G Suite Enterprise for Education different than what your district is already receiving with G Suite for Education for staff and students users?
On the right, you can see the extended services offered through G Suite Enterprise.  The two areas that will extend to all licensed users (not just G Suite Administrators) is the ability to record in Meet, with larger meetings- up to 100 endpoints as well as live streaming events up to 100K viewers.  The other key feature that end users can harness is Cloud Search. Specifically for G Suite Administrators, the bottom portion illustrates the advanced functionality gained including advanced mobile device management, BigQuery reporting, the ability to choose your data region, and the Security Center (both the Dashboard and Investigation Tool).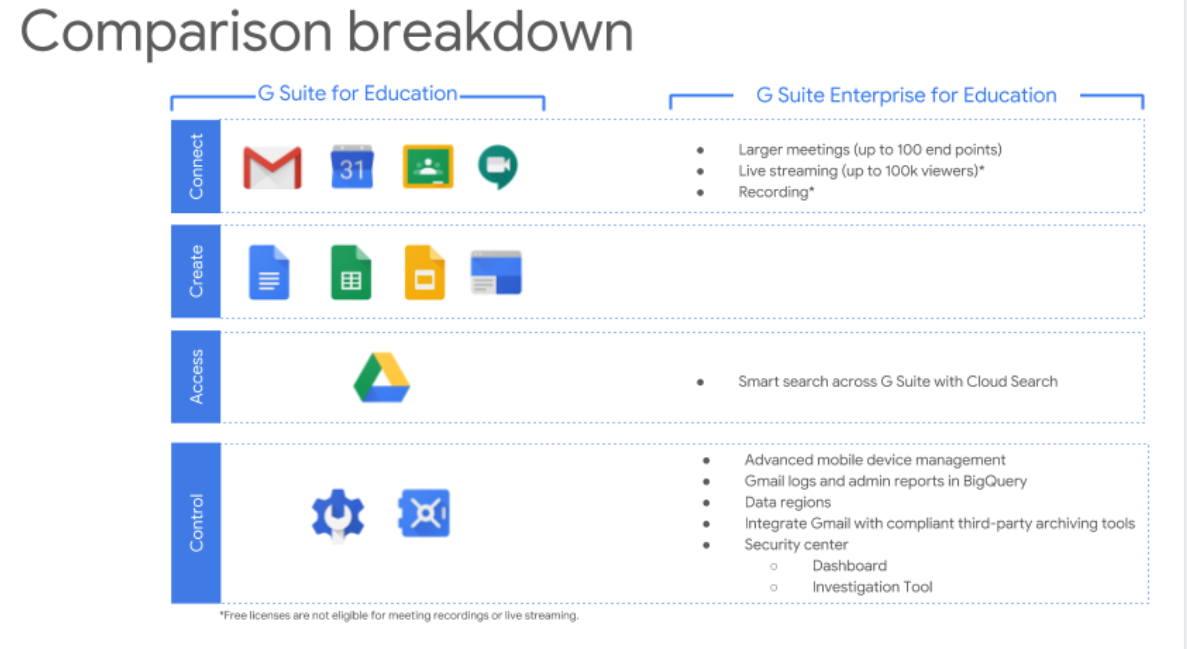 Feature: Security Dashboard
The Security Dashboard is customizable and provides an overview of trends across your domain, showing key metrics like spam volume, email authentication and drive sharing.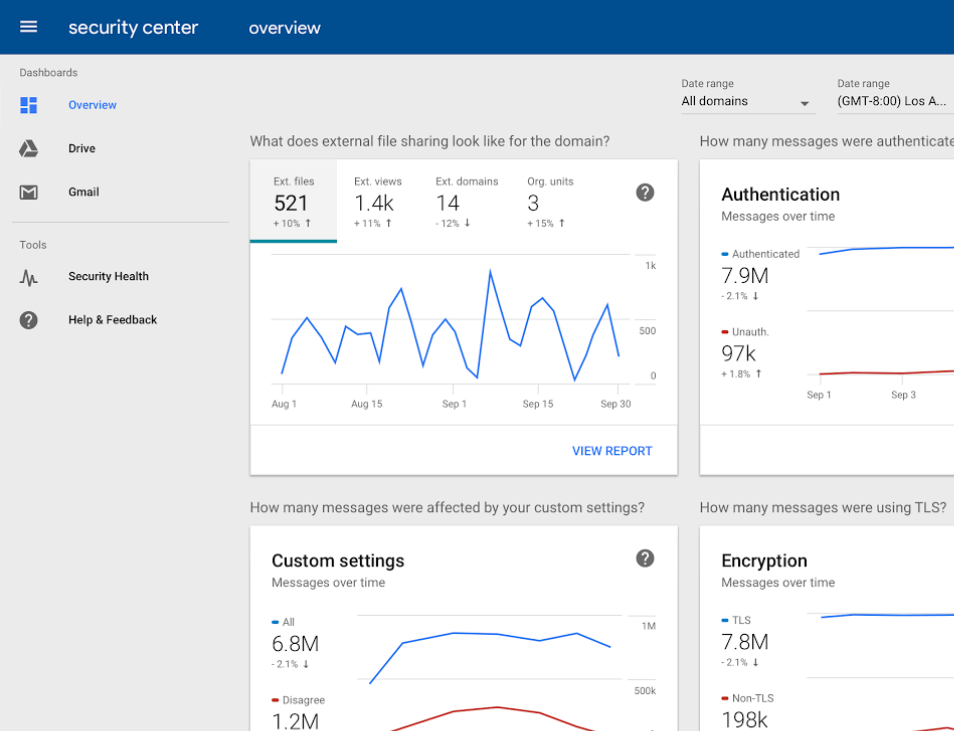 You can identify domain wide trends and either take action or export findings to a sheet.
Here are the types of trends you will be able to identify using the Security Dashboard:
• How are potential phishing emails being routed?
• How many messages were affected by your custom settings?
• What does inbound message volume look like?
• What does external file sharing look like for the domain?
• Which apps have had the highest change in OAuth grant activity?
• Which new apps have been granted OAuth tokens?
The Security dashboard is the launching point and "bird's eye view" for activity that needs further action, which can be conducted through the Investigation Tool.
Feature: Investigation Tool
The Investigation tool provides the ability for admins to form investigations based on data sources from Device Log events and Devices, Drive Log Events, Gmail Log Events and Messages, and Users.   Beyond being able to investigate, you also have the ability to take action or export the findings to a Google Sheet.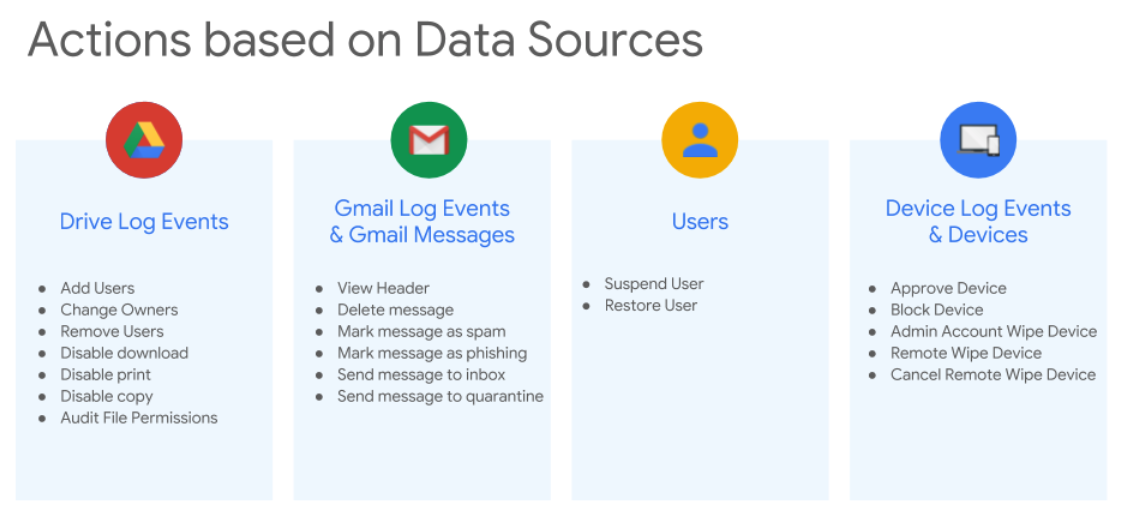 Here are just a few actions you can take based on data sources through the investigation tool.  
Other possible use cases include:
• Give access or ownership to certain files or folders by searching for Document ID or Title and add or change owners on the files or folder.
• Review files shared outside of your domain and change the visibility
• See who is printing what from drive
• Remove Email from inbox and delegate access
• Look into a users SPAM folder
• Move Email that has been marked as spam or out of inbox
• Delete email sent by mistake
Feature: Cloud Search
Cloud search allows licensed users to increase their productivity with a unified search experience across your entire G Suite domain for those items you have been granted access to (follows regular sharing permissions).  
Some simple, everyday use cases include:
• Ease of searching across G Suite Services
• Ability to use common language
• Get a jump start on meetings
• "Pick up where you left off" card to work on files in progress
• Add items found in cloud search to a doc, sheet, or slide with a single click
Feature: Enterprise-grade communication tools with Hangouts Meet
With G Suite Enterprise for EDU, schools have access to more sophisticated capabilities including the ability to record meetings and save to Drive, international phone dial-in access, larger meetings with up to 100 participants, and live stream with up to 100K participants.
Use Cases for additional features in Meet include:
• Record Key Meetings (staff, board, professional development, announcements, student presentations)
• Live Stream (professional development, Community Outreach, and School Events)
There are many other Enterprise features not outlined in this post.  We do anticipate that Enterprise will continue to evolve based on the needs of educational institutions. If you didn't find what you were looking for in this post, we encourage you to
reach out to our team for a thirty-minute consultation
.  Also, did you catch our G Suite Enterprise webinar live?  If not, you can go back and watch the full version
here
.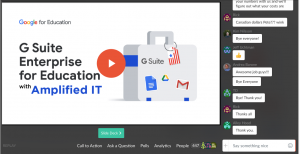 The Amplified IT team is leading the way on how best to deploy and get the most out of G Suite Enterprise for Education.  We have a dedicated partner and consultancy team who are working together with leading schools to find the best ways and use cases to use Enterprise within the education space.  You can join that group and benefit from the free onboarding and training offered by purchasing your G Suite Enterprise for Education licenses via Amplified IT.
Catherine Weers
Partnership Manager

About the Author:

Catherine Weers joined the Amplified IT team in 2017 after 13 years working in Public Schools as an educator and Technology Coordinator. She has a rich history in Educational Technology. Today, she is the Partnership Manager where she is in charge of ensuring schools get the right tools to fit their individual needs in security, Chromebook management, web filtering, backup solutions and much more.