These updates and timeline are written as of 2/15/21
With many schools already migrated to Google Chat and the rest not close behind as Google forces us to migrate this year, I thought I'd share a Chat tip I use every week. I used this one twice yesterday! Do you know you can forward a chat to your inbox with Chat's Forward to inbox feature?  Let's take a closer look.
Let's say a colleague chats you up in Google Chat and you quickly realize it should be an email or you just can't get to it right now. You think to yourself, "oh, I will remember to come back to this thread!", yeah, right! With the number of Chat rooms and daily messages even if you have the best intention to return to a message, you may have difficulty locating that specific message. 
By using the
Forward to inbox
function within Google Chat you can send messages to your inbox while preserving the message in Chat. From your inbox, just click the
Open
message
button in the email to return to the message. 
From your conversation:
Hover over the message – an actions menu appears

Click the envelope icon (

Forward to inbox

) – the message appears as a new email in your inbox
From your inbox:
Open the message in your inbox

Click

Open message

to return to the Chat message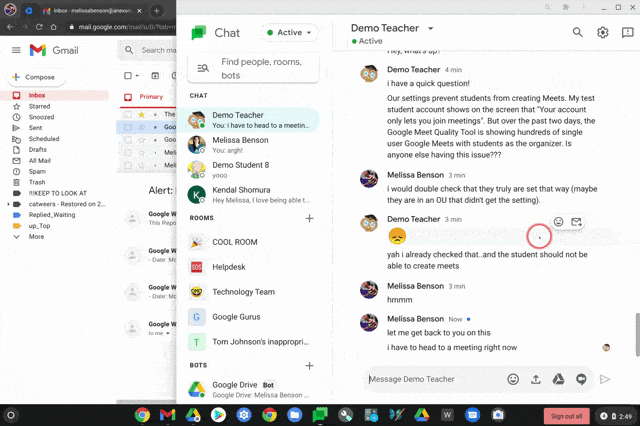 While we're chatting about Chat, below are a few of my other favorite Google Chat tips:
Bold text

: Place asterisks before and after your text and they will become *bold* like *this*!

Stand-out sentence

: Want your sentence to stand out? Place backtick (`) at the beginning and end of your sentence


Note

: The backtick is below the esc Keyboard button

When you send the message, it turns into this:

Stand-out paragraph
: Have a paragraph of text and want it to stand out? Place 3 backticks ("`) at the beginning and end of your paragraph. Like the previous tip but instead of 1 (`), you use 3 ("`)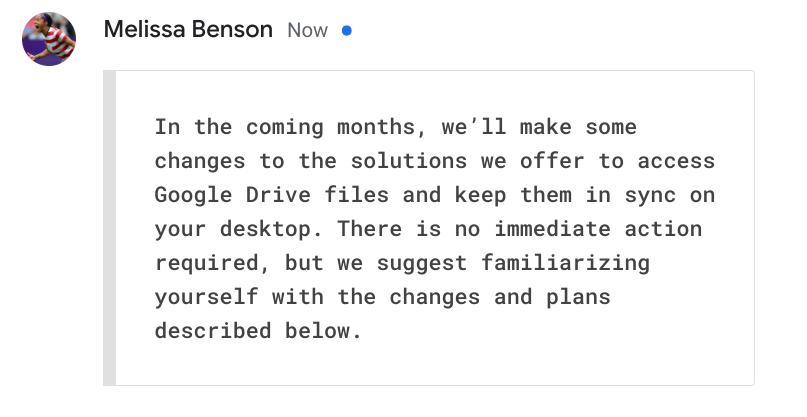 Google Chat is such an improvement from classic Hangouts and even the simplest of tricks can make a difference in your communication and everyday workflows. Hopefully, this post has made your (Google) Chatting experience just a little bit more enjoyable and in case you are interested in getting updates just like this, consider joining the
North American Google Technical Collaborative (NAGTC).
This is our platform to learn and share. Reviewing the latest updates is a large part of what we do in the collaborative.
Don't Google Workspace alone – join us!
Melissa Benson
Google for Education Technical Collaborative Lead

About the Author:

Melissa has been a Google Workspace for Education Consultant for Amplified IT since 2015. She began working with the Google for Education (GFE) Admin console in 2008 where she helped implement and integrate Google Workspace and Chromebooks into multiple K-12 school districts. Now, as part of the Amplified IT Team, she continues to help schools set up and manage Google Workspace environments with educational best practices with an emphasis on facilitating the North American Google Technical Collaborative.