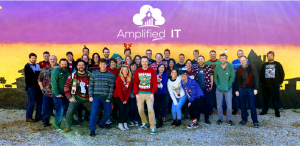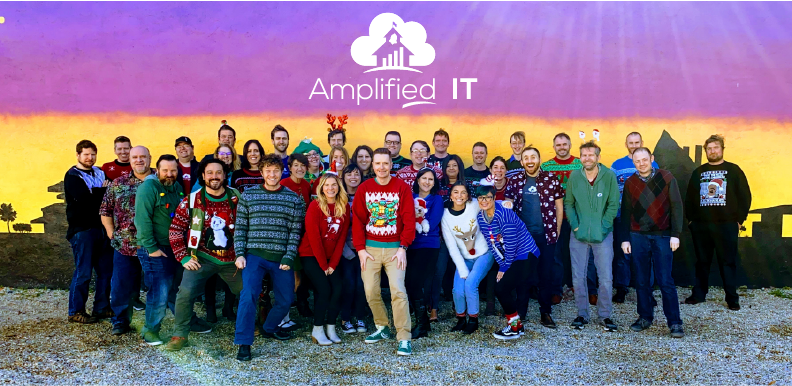 Amplified IT is officially certified as a Great Place to Work®! Recently, team members completed an anonymous survey on the employee experience, providing feedback on topics ranging from leadership to communication to benefits. Reflecting on this award, President and Co-Founder Tim Lee shares, "While being purpose-driven to support and create sustainable EdTech with Google for Education is rewarding in itself, it takes it to another level when you work with others that help you be the best version of yourself. Having 100% consensus from the GPTW showcases the work everyone here has put in to make Amplified IT what it is."
While Amplified IT was founded and headquartered in Norfolk, Virginia, we decided to transition to a flexibly remote company in response to both COVID and a desire to expand the company's hiring profile. Being a great place to work means attracting and retaining a team of people who are inspired to fulfill the mission of the organization, and the company has the workplace infrastructure to do just that, no matter where those employees live. 
The Great Place to Work®! survey is a quantitative survey, and the results speak for themselves. But it is the comments from team members that truly capture the spirit of this award. In the leadership category, employees shared:
"In my 20+ year career, I have never worked with a more caring or compassionate leadership team. They go out of their way to ensure that we all feel valued and appreciated."

"The leadership at Amplified IT and all employees care about those that work here. I know that if I had a life event happen, this team would have my back in celebrating or sending me condolences. Amplified IT lives out our core values every single day!"

"The co-founders have a perfect synergy for the company to succeed. When it comes down to it they really care about the company and there seems to always be something unique or given to us as we have grown."
Beyond a caring leadership team, several comments highlighted generous benefits and company perks:
"I have seen a great deal of emphasis put on self-care here as well as 'people over profit.' Recent company holidays allowed everyone to shut down, extra floating holidays helped team members take additional time off as needed, and we have a generous uncapped sick leave policy."

"Amplified IT tries to follow other 'tech startup' models on how they manage, give PTO and bring culture into the company. I feel comfortable working here."

"The company hosts fun events for employees on a regular basis. For 2020, these have been virtual events, but still a lot of fun. One recent example was a friendly competition where teams competed to see who could 'name that tune.'" 

"The company has sent us swag and gifts on a regular basis which is especially appreciated during this year."
Becoming certified as a Great Place to Work® doesn't just happen by chance. With a strong mission to empower technical IT leaders at school districts across the country with the innovative tools they need, Amplified IT attracts employees who are highly engaged and passionate about helping this transformation. Committed to hiring for diversity and core value alignment, Amplified IT has a People Team that not only supports the recruiting process, but invests in culture and morale. The leadership team has an open-door policy and encourages candid feedback and suggestions to strengthen the organization. There are various ways to recognize team members for their contributions. Topic-specific virtual chats keep team members connected despite their distributed locations across North America.
We are honored to receive this recognition as a Great Place to Work® and look forward to extending our impact in 2021 as we continue to innovate in ways that will move education technology forward and in turn, make education more accessible and available to all.