Here is everything you need to know about Google Workspace Licenses. In this post, you'll get answers to questions including:
What do they do? 

Who should get them? 

How do you assign licenses? 

What are some best practices? 
We've got you covered in our comprehensive guide to licensing.
The value of Workspace for Education
Last year, 7,621 unique school districts purchased Google Workspace for Education (Education Plus). It's not shocking that 93% of schools implemented Education Plus to access enhanced Meet Features to support remote learning but there is so much more value you can get from Education Plus.
In most cases, instructional staff receive Education Plus licenses along with specific office staff, admins, and other key stakeholders needing enhanced Meet features (Record, Live Stream, Breakout rooms, Noise Cancellation, Q&A, and Polls).  
If you have not started to license you Education Plus users, we have created a comprehensive guide that will walk you through the options and address frequently asked questions. When you purchase your subscription, it is called "Full Domain Licensing," however it does require license management. You must assign a license to users who need the enhanced functionality.  
Common questions we receive are, "who needs a license?" and "why do students need a license?" This is a great place to start understanding who actually needs a license before deciding how to allocate them.
Who needs a Google Workspace for Education license? 
Yes, the Meet features are crucial, however, don't miss out on the security features too! 
Follow this link to download a full list of Education Plus features to find out what requires a license to function for staff or students).
Why should I assign a license to students? Is it recommended? 
Student licenses should be assigned in order to leverage several security features such as Context-Aware Access, Gmail Security Sandbox, and for device management (Windows 10 and Advanced Mobile Device Management), which is user- (not device) based. If you plan on exporting the Gmail logs in BigQuery, it requires a license even though the regular admin logs do not require a license. Another configuration that requires a license is Data regions, which allows you to determine where your cloud data is stored. Lastly, if none of these features seem like a reason to license your students, keep in mind other features in the roadmap could require a student license. 
The only feature that a student license allows students to initiate is Cloud Search. Although they will recognize the features used by their teachers (in Meet, Originality Reports), Cloud Search, a core service, is the only Education Plus feature that students will be able to access from the Apps Launcher or by going to cloudsearch.google.com
Student licenses will not enable any enhanced meet features such as breakout rooms, recording, or live streaming.
What are the gotchas for licensing Education Plus?
Understanding a few "gotchas" before assigning licenses will save you lots of time. 
The key "gotchas" are: 
Auto-assigning by OU will assign licenses to all users in that OU, including suspended users. The auto-assign method is NOT recommended, more details in the auto-assign section below.

When you suspend a user, you also will have to remove their GSEfE License. It can be reused, however, you must remove it.  

The only ways to license by group are GCDS, GAM/APIs, or Amplified ITs licensing tool (for AIT customers only).
Different ways to assign licenses to users
Now you have some information about the benefits of assigning licenses, even for your students, along with some common "gotchas." Let's take a look at how to allocate them to the users that need access.  
Assign/remove licenses for an individual user
To assign or remove Licenses for an Individual User, navigate to their user page in the Admin console. Click the checkbox next to the user and click "more" to assign/remove licenses.

You can also click into the user's profile, navigate to the licenses section, and toggle ON the license to assign. It will show you how many are available too.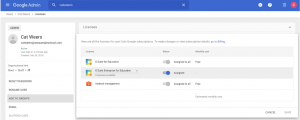 This method is great if you only have a few users that need licenses OR if you need to provide a license quickly but it will not be scalable for larger organizations.

Use a CSV to bulk bpload 
You can use a CSV file to bulk assign licenses, however, it will time out if you are trying to upload a large quantity. Typically, anything under 500 users works okay. You cannot use the CSV method to remove licenses from users.  
To bulk assign, sign into the admin console and navigate to the User's page. Click the cogwheel and manage licenses in the user list. Choose new column>Chose license>click Save.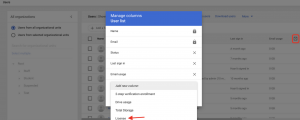 Click Download users at the top of the screen.

Change Select Columns to "All user info columns and currently selected columns" and click download.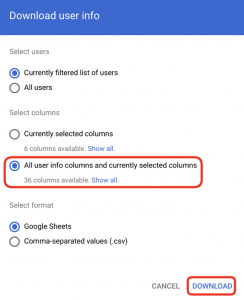 Download and open the Sheet. Locate the column called "New Licenses."
Enter the product/service ID for the license you wish to apply. The SKUs are below:
1010310002- Staff Google Workspace for Education 

1010310003- Student Google Workspace for Education
Once you've made the changes to the file, save it as a CSV, return to the Users section and click "bulk upload users." Ensure you are putting the SKU number in the AJ or New Licenses UPLOAD column (not read-only).
For other common errors, see this Google Help Article.
Auto-license by OU
Most of the time this method is okay for student licenses because students are in the same OU. If you have suspended students in an OU with other active students needing a Education Plus license, you are going to want to move them to a suspended OU before starting otherwise, you will run out of licenses since auto-assign will license suspended users as well.
Auto-assign typically doesn't work for staff licenses because of the OU structure seen in K-12 schools. Usually, it is by location and you may have some users in the same OU that do and do not need a license applied to them.  
Proceed with caution anytime you use Auto-Assign because if you attempt to apply more licenses then you have available, you will run out leading you to have to analyze who has one that shouldn't, remove the license, and potentially even remove the user out of the OU if you plan to continue to use auto-assign.
GAM
If you are comfortable using GAM, you can use some general command to add/remove licenses by either user, OU, and even group while eliminating suspended users.
Some example commands are below:
Add license to anyone in the Staff OU that is not suspended
gam print users query "orgUnitPath='/Staff' isSuspended=false" | gam csv – gam user ~primaryEmail add license 1010310002
Add license to anyone in the Student OU that is not suspended
gam print users query "orgUnitPath='/Students' isSuspended=false" | gam csv – gam user ~primaryEmail add license 1010310003
Remove license from anyone on the domain that is suspended (Staff License)
gam print users query "isSuspended=true" | gam csv – gam user ~primaryEmail delete license 1010310002
Remove license from anyone on the domain that is suspended (Student License)
gam print users query "isSuspended=true" | gam csv – gam user ~primaryEmail delete license 1010310003
Create a CSV of all users who have been assigned an Enterprise license
gam print licenses products 1010310002,1010310003 > licenses.csv
Using GCDS to assign licenses
If you are already using GCDS for user provisioning, this is the best method to use. It's dynamic and can add/remove licenses based on Group membership. You can use nested groups. First, you'll need to ensure you are on the latest version of GCDS, 4.7.6 as prior versions do not include the Google Workspace SKU in the license tab. You will also want to simulate any changes in the GCDS Configuration Manager prior to ensuring there is no unintended impact to your domain. Lastly, you will need to have auto-assign licensing turned OFF in the admin console. If you need additional help with getting GCDS with Amplified IT, you will need a support contract. Our team can help you customize and configure GCDS to assign your Education Plus licenses.
Getting help from Amplified IT 
If you have purchased Education Plus from Amplified IT, we can help you with your licensing simply email support@amplifiedit.com. Additionally, we offer our customers access to a licensing tool that can be used to license users by group and run on a schedule. This option is only available to districts who are in Amplified IT's reseller account because you purchased through us.  
If you purchased Education Plus through Amplified IT, support is available for Education Plus customers related to license application, the security center, Originality Reports, and advanced Meet features (attendance reports, breakout rooms, and livestreams). We can also use our Google Premier Partner status to escalate an existing Google support case. 
A support contract is required for support on general Google Workspace issues related to core applications, Google admin best practices, general admin console assistance, Chromebook and Windows Device Management, Advanced Mobile Device Management, Data Loss Prevention, GCDS set up, and/or BigQuery/Data Studio customizations. We do not provide support for Education Plus beta programs. A support contract is also required to get assistance with GSEfE for those districts who did not purchase through Amplified IT. We can still assist with support hours. 
If you've not licensed your users, the new year is a perfect time! To learn more, follow this link to download a full list of Google Workspace Features.
About the Author:

Catherine lives in Virginia Beach, walking distance to the Chesapeake Bay, and works at Amplified IT as the Onboarding and Engagement Consultant. Catherine joined Amplified IT in 2017 after serving in public schools for 13 years as a teacher in addition to various technology roles. During her time in the school system, Catherine spearheaded the virtual instruction program, helped implement online learning options, alongside internal training. Her current role allows ample opportunity to empower schools while sharing best practices to get the most out of the cloud solutions they adopt.  In her spare time, you can find her at the beach with her family, likely chasing her 2 young daughters and petting all the dogs.