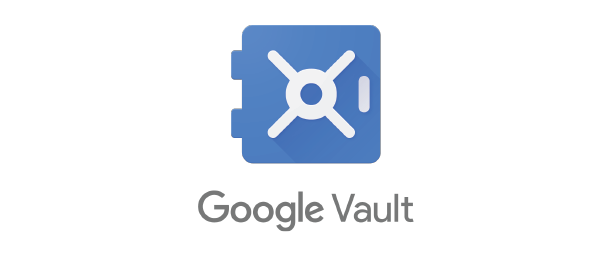 If you are reading this, you probably are either looking into Google for Education (GFE) or have already adopted it. Either way, the sheer magnitude of the systems integrated together to make it work and flow is still mind-boggling, even to the most seasoned GFE enthusiast. There are over 60 apps available through Google, some of them are core services and some are additional services. We have taken the time to identify what services are key for you to successfully navigate and use in support of your school's initiatives through Google for Education.
What is Google Vault?
Well, if you "Google" it, Google will provide you with this breakdown of their Vault service:
"Google Vault lets you retain, hold, search, and export data to support your organization's archiving and eDiscovery needs. Vault supports:
Email messages

Hangout chats with history turned on and Google Talk chats that are on the record

Google Groups

Files in Google Drive and Team Drives
Vault is entirely web-based, so there's no need to install or maintain any software."
Simply put, this core service allows you to determine what content gets retained and then offers easy access for searched and exported data to ensure it meets your eDiscovery and compliance needs.
So what data types can be utilized through Vault?
Mail, Hangouts, Google Talk, Groups and Drive can all be retained, searched, and exported.  
How do you access Google Vault?
The Vault can be reached multiple ways:
Option #1
Apps > Google Workspace > Google Vault – click on the URL
Option #2
Option #3
Waffle Iron – located at the upper right corner of your admin console
Retention:
Once you have accessed your Google Vault, the next step is to determine your retention policies. Who, what, and for how long data should be stored are the key questions that should be addressed when setting up your retention policies. Setting up custom rules that based on specific organizational unit's, specific date ranges, or terms are the typical parameters used when applying retention policies.
It should be noted, Vault immediately begins the process of purging data that exceeds the retention coverage period as soon as you submit a new rule. This can include data users expect to keep. Do not proceed initiate any new rule until you're sure the rule is configured correctly.
Holds:
Holds are typically created in response to an investigation or legal issue and they will preserve data indefinitely. A hold takes precedence over a retention rule. When a hold is deleted, data is then subject to applicable retention rules and only those who have access to a matter can see who and what is on hold.
Export:
After you have located the messages or files you used Vault to locate, you can then export them. The export will provide you with a comprehensive copy of data that matches your search, metadata linked to the data and corroborating information to show the data matches that which is stored on Google's server. Your exports from Vault will be available for 15 days after creation and you can export in the following formats:
PST

Chrome – Print as PDF or Save to Drive

MBox format

XML

CSV
Not a backup:
It should be noted, that Vault is an excellent resource for retaining, archiving, searching and exporting your organization's email, hangout & drive data, but it should not be used as a backup solution or recovery system. You are able to keep data for as long as you need it and remove data when no longer needed, but once it is removed, there is no recovery. The primary use for Vault should be for eDiscovery and investigations and you can look into Sys Cloud or Backupify for backup and disaster recovery tools.
If you are unsure about how to proceed through any of the facets of Google Vault, Amplified IT offers various ways to ensure you are trained with Google for Education best practices in mind. Amplified IT has regular technical trainings that cover Vault as well as many other core services and we offer one on one training to ensure school Google admins are confident in their settings and practices.