It is funny even with as many hours as we all put into the Google Workspace environment there always seems to be daily things that show up to surprise, confuse, and excite us. In this post, I will share a few of those things we have found in the past few weeks that may do the same for you.   
Even with the current situation and Google aligning resources to bigger projects like updating Meet capabilities, there has been no shortage of updates to the console, many of these not announced in blog posts or support updates.  
Let's look at this potpourri of new things and see what we see.

Configuration groups

– I really like configuration groups as they are a piece of the puzzle that we have been missing for years. It has been great that Google has continued to allow most services and settings to be turned on and off by OU, but being able to turn a specific setting on for just a group is an added flexibility that is quite a game-changer. This is not the same as

access groups

that have been around since Dec 2018 allowing services to be turned on by a group.

We have been hoping to see the ability of configuration groups to grow since they were first announced last year. In the last couple of weeks we have spotted new configuration groups abilities in:

Gmail – User Settings

– It seems now we can use Configuration Groups to manage user settings in Gmail such as email read receipts, mail delegation, Gmail web offline, confidential mode, dynamic email… amongst others.
Wouldn't it be great to allow email read receipts for your principles, but not overwhelm the email system with allowing the read receipts for an entire OU. Another great idea could be turning

confidential mode

on for just your leadership team, school psychologist, or guidance counselors. Even turning on mail delegation for your folks with administrative assistants or secretaries who need this type of access can be beneficial. Luckily, we now have that flexibility to granularize these settings tailored to the unique needs of a smaller group of individuals without being turned on for an entire OU.    

Upon further inspection, we find the configuration groups ability is hiding in plain sight within

new sites

. You can now allow configuration groups specific abilities in site creation and editing and last updated setting which means you can decide who can create and or edit by more than just OU level settings.
I don't know about you, but I hope that the ability to control service settings by configuration group continues to expand into all areas of the console. I know that will make us reconsider the best way to align services and settings, but it will also give us more abilities to configure settings more granularly for our users.
Now if we just had an efficient and easy way to manage those groups, automatically and dynamically!
What else has popped up in the console?
Well, we recently saw some new things in the user and browser setting of Chrome management and the biggest of these seems to be new abilities to individually control a
ccessibility settings
by OU.  
There are numerous abilities in this new section, unfortunately, this finding seems to even have outpaced updating of the support page for user and browser settings, suffice it to say you can now, allow the user to decide, aisable or enable individual accessibility settings such as spoken feedback, high contrast, screen magnifier, large cursor, primary mouse button and many more. We highly recommend using this ability only on a limited and as necessary basis as you want to allow these settings as much as possible for those that need them, but you could use this new ability to disable troublesome features that kids are using without having to turn them all off. Note – this ability is not yet enabled with configuration groups so it can only be set by OU, this limits the ability to allow for those that need it and disallow for those for which it is not necessary – let hope that Google gives us configuration groups ability in Chrome management in the near future. You may want to watch our
Google livestream about accessibility
as well to see what other abilities the Google Workspace environment offers our users.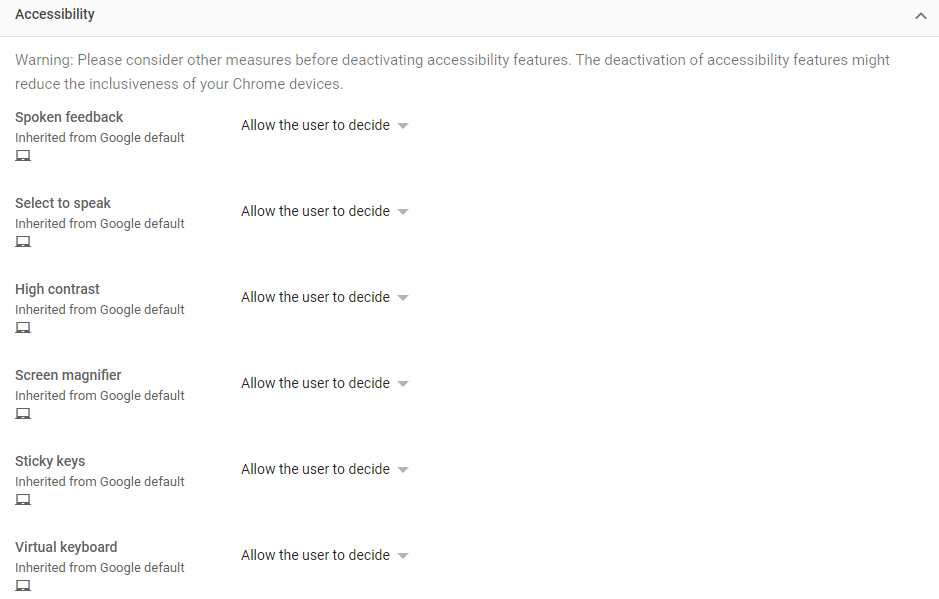 There is also the new
maximum user session length
setting that allows us to decide how long before users are automatically signed out and the session ends. What would you set for this in your domain? How might you align this setting with other things like desktop logouts, sleep, and local workstation settings?
Native printing in user and browser settings continue to get new abilities such as background graphics printing restriction, Native print job information, and print job history retention period – if you have not looked at Native printing the Admin console recently maybe it is time to do some testing. Remember Cloud Print is going about December 2020 and if Native printing does not fulfill your institution's printing need, you can always look into directprint.io as your complete printing solution. It is a cloud print service compatible with both Chromebooks and window devices and it also works with group settings for allocating printers to Groups, users, or devices.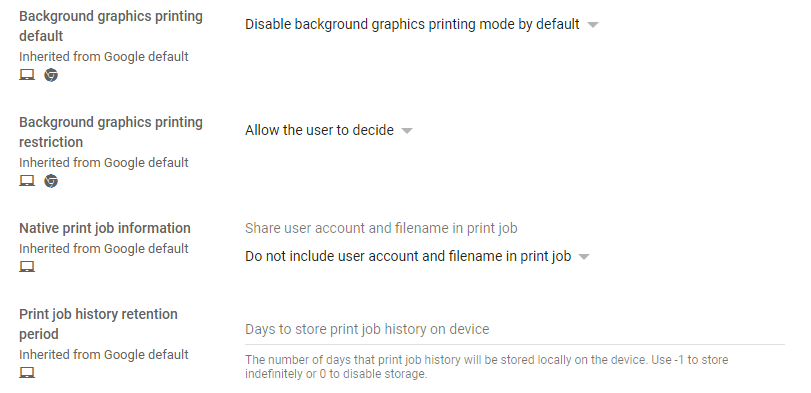 These are just a few of the most recent findings from the Admin console in Google Workspace, honestly, for the Amplified IT team it is like finding little golden nuggets as we train users, work on support requests, and put together domain audits. It is often funny to see a trainer in the middle of their presentations go – "Well that's new" as they navigate the console and provides good points of discussion around the continual improvements Google consistently makes across the environment.
What have you found lately in the Admin console, on your devices or in relation to Google Workspace that has surprised, confused or excited you?
It is so important to try and stay up to date, whether you join our
Collaborative
, subscribe to the
Google Workspace updates blog
, read internet forums and sites, or at a minimum, schedule time with your team each week to review the console and see if there are any changes that might affect your setup and culture.  Stay current as best you can and continue to provide
feedback
to Google on improvements. 
Be well, 
Carl Behmer
Carl Behmer
Google for Education Technical Consultant

About the Author:

Carl has been a Google Workspace for Education Consultant for Amplified IT since 2017. After serving in the US Navy as a Network Administrator, Carl continued his career by migrating into the education sector where he found his place as a Technology Supervisor for nearly 10 years and Technology Director for 2 years in his home state of California. As part of the Amplified IT Team, he continues to help schools set up and manage Google Workspace environments with educational best practices.