Google for Education regularly makes changes and updates to Google Workspace editions in an effort to adjust to the needs of academic institutions and their stakeholders. Not long ago, Google for Education announced that
Google Workspace will be receiving limitations in storage abilities
in July 2022. To enable our customers to continue getting the most out of their Google Cloud domain, Amplified IT is releasing its newest Gopher tool: Gopher for Drive.
Introducing Gopher for Drive
Google Workspace for Education editions initially came with unlimited storage, but now Google Admins will have to
prepare for a change in the Google for Education storage policy
. Google Workspace domains will receive 100TB for free, after which institutions will have to upgrade to a paid edition for additional storage. 
Understanding how important it is to track Google Drive usage across a Google Workspace domain, Amplified IT has developed Gopher for Drive, a Google Sheets add-on, so institutions can monitor their storage consumption and get ahead of the upcoming limitations.
Gopher for Drive, currently in closed beta, provides high-level user and file information about the total storage usage in an institution's Google Workspace for Education domain. Within the generated Domain level, Shared Drives level, and Drive level reports, admins can view overall domain storage usage, view user storage usage, and view large files for users, filtering by file type and file size.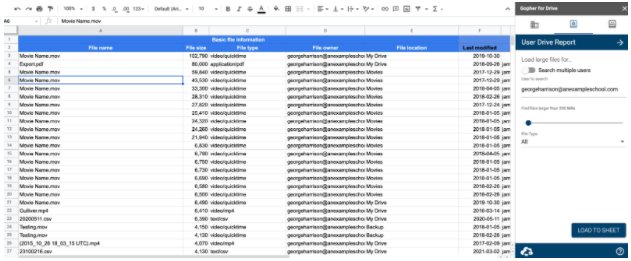 This new Gopher tool allows institutions to identify large storage footprints and guides them in managing them effectively.
About the Author:

Shiloh joined Amplified IT as the Director of Product Development in 2020 and lives in Williamsburg, Virginia. With ten years of experience in Product and Project Management, she is passionate about building products that solve problems and improve customer experience. As a military spouse, she has lived in several locations across the United States, including Hawaii, California, North Carolina, and Virginia. When Shiloh is not working, she likely either has her nose in a book or is offroading, hiking, or camping with her husband, son, and two dogs.