Over the last few years, a lot has changed. More schools than ever are seeing the value of Google's cloud technology, and the education space continues to embrace the benefits of going digital.
A lot has changed for us too. In the past two years we've doubled the size of our awesome team and we continue to deepen our relationships across North America. It's amazing to reflect on the fact that our team has empowered Google Workspace admins to positively impact the education of over 27 million students.
One thing that hasn't changed though, is our mission. Our mission is to amplify the transformational impact of Google's cloud technology on education. We do that by bringing together our expertise in education and Google Cloud to develop innovative products and services that are used by thousands of schools every day. Our efforts are focused on five core service areas and we're proud of the impact we've had in each of these.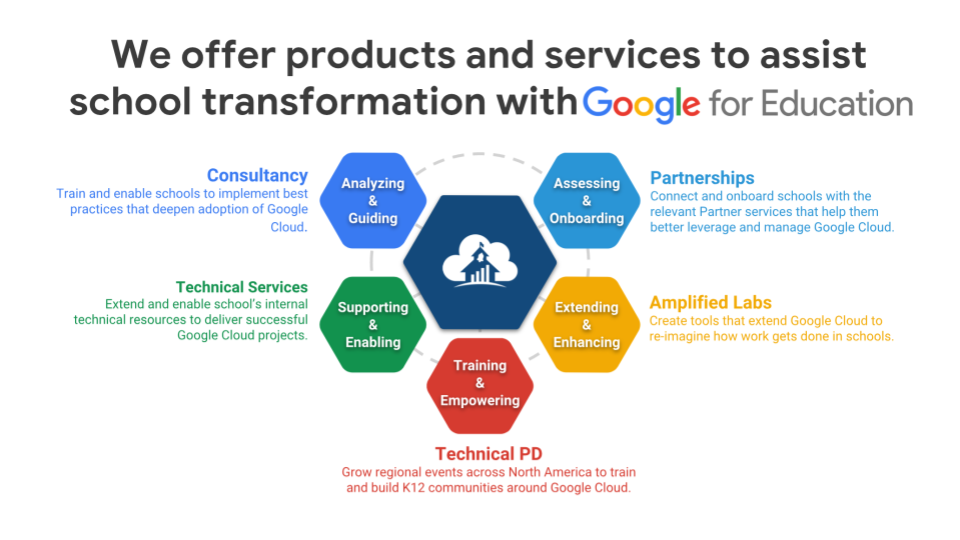 As we look to the future, it's clear that we can help the most when our tools and services are connected. Having a holistic approach to the value we provide allows us to help more schools at a much deeper level. To that aim, we are excited to welcome Shiloh Gealogo to the Amplified IT family as our new Director of Product Development. Shiloh will be leveraging deep community engagement and her decade of experience to hone our products' and services' strategy as we continue to innovate to meet the changing needs of the education market.
About Shiloh
Shiloh joined Amplified IT as the Director of Product Development and lives in Williamsburg, Virginia. She's passionate about building products that solve problems and improve the customer experience. As a military spouse, she has lived in several places across the United States, including Hawaii, California, North Carolina, and Virginia. When Shiloh isn't working, she either has her nose in a book, or is off-roading, hiking, or camping with her husband, son, and two dogs.
If you've been to an Amplified IT Google Workspace training – you'll no doubt have heard the phrase "the smartest person in the room is the room." Our team lives and breathes Google for Education every day and we value the insight and experience of our partners and customers in the field. Because of that, all of our products and services have been built by exploring and designing concepts hand in hand with people from the Education community. So we'd love to hear from you!
If you have a challenge with Google Workspace or are willing to give feedback on where Amplified IT can help you most – please feel free to book some time with Shiloh to share your perspective.
Tim Lee
President / Founder

About the Author:

Tim Lee founded Amplified IT over 10 years ago to connect a lifelong passion for Technology and how it can be deployed to revolutionize Education. He currently lives in Norfolk, Virginia with his wife and two sons.