It's summer and we'd all rather be listening to the waves rolling in rather than spending time setting up and preparing existing Chromebooks for the next school year. 
While we've visited this
topic
before, we thought we would remind you of a few options available and provide a few tips and tricks to speed up that trip outdoors.
First, remember there are many options at your disposal to get those Chromebooks enrolled:
Manual – free, easy and asset ID's can be loaded during enrollment

Manual+ – just like above but using a barcode scanner to speed up the process

Automated Enrollment – Think

Centipede

which does multiples with the help of a programmed arduino

Automated and need more power –

Go Box

–

 is not free, but the nearly-white glove service greatly speeds up the process and you can get 10% off with promo code: AMPIT.

White-Glove Service – CDWG is one company that offers a white-glove service. They tend to be a bit more expensive, but with bells and whistles like engraving, special boxing, quality checks, this option will get you back by the pool in a flash. 
Before you enroll those devices though, let's review a few options:
Create a user in each target OU to place the devices when you enroll them by checking Chrome Device Management>Users Settings>Device Enrollment

Check that Chrome Device Management>Users Settings>Asset Identifier during enrollment is set to

Users in this organization can provide asset ID and location during enrollment

Is it easy for students to sign into their Chromebooks?
Make sure the Autocomplete domain is set! That's under Device settings. Also, don't forget to disable guest mode. Set that language to English (as appropriate) and keyboard language to US International Keyboard which will prevent them from changing to other language and keyboard settings.
Do you have remote learners?
Adding bookmarks by type, school, or grade level OU is a great way to save students time by loading necessary bookmarks teachers need!  
How about pre-loading certain pages that are needed by that student every time they log in such as a student portal?
Add them under Users Settings with Pages to load on startup.
Do you have students who need to use accessibility features?
Enable
Accessibility shortcuts
on the sign-in screen. Under
Device settings,
there is a section titled
Sign-in screen accessibility
. Set all to
Allow the user to decide
and there are a number of options available to students which can aid in their learning journey.
Are you having issues with Chromebooks not restarting after major version updates?
Great news, there is a new setting under Chrome updates. Set that option to Force relaunch after a period. Try setting the period to an hour or two. If students are testing then it won't interrupt them but will force the restart between 2am – 4am every time! This is what students will see: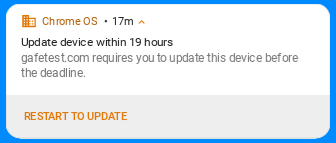 Just remember, that Chromebook needs to be at Version 83 or higher to work. Talk about a time saver next year!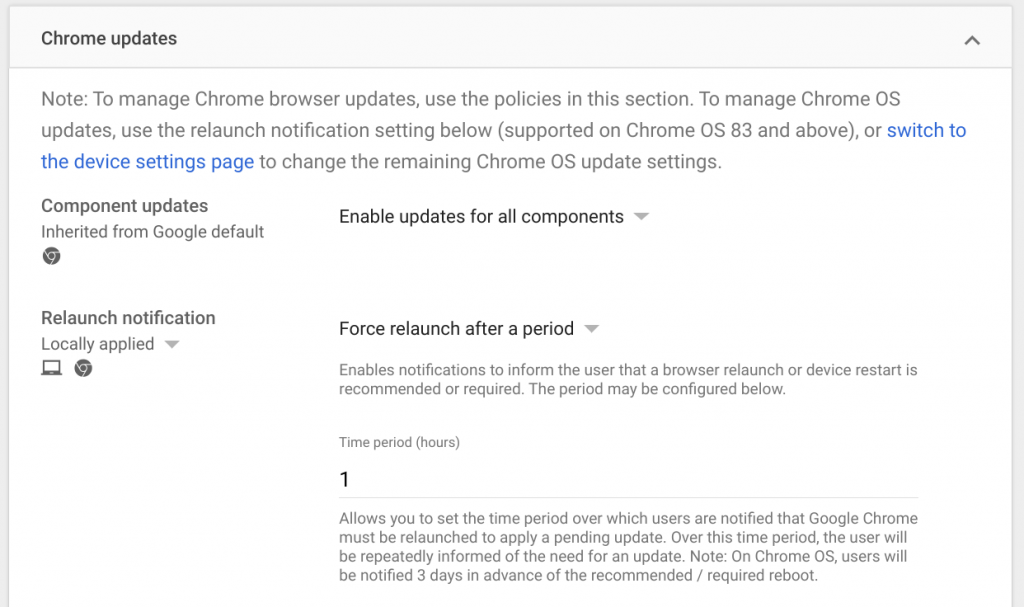 Once the device is enrolled, check that Chrome Device Management>Device Settings>System info on sign-in screen is set to
Allow users to display system information at the sign-in screen by pressing Alt+V –
this will give you the serial number if you can't read it on the device as well.


These are just a few tips to speed up enrollment, make remote learning on Chromebooks easier, and reduce your time spent on issues. Now, let's hit the beach or connect with the account manager in your region to learn more and/or get information on support.
Tammy Groff
Google for Education Training Consultant

About the Author:

Tammy started at Amplified IT in 2019 after working as Director of IT at a small private school where she executed the replacement of the entire network and wireless infrastructure of the school, security cameras, and managed the schools' migration to 1:1 Chromebooks. She is currently pursuing her master's in Project Management and plans to graduate in Spring 2021. Today, as one of Amplified IT's Google for Education Training Consultants, she greatly enjoys training Google Workspace admins and collaborating with schools to ensure they are following EDU security best practices in their Google Workspace environment.