It's time to celebrate! Gone are the days that we longed for walled gardens around our Google meets! Here are the days of in-domain meetings only. The controls are now available in the Admin console and we are excited to show you where to find them and how to set them.
Navigate into the Admin console to Apps > Google Workspace > Google Meet to find the Meet safety settings. To begin, you should always ensure that you have selected the correct OU. This setting is only for OUs at this point and not accessible by Groups. Once confirmed, you can explore the setting options. 
The first setting is called
Domain
and this defines who can join meetings created by your organization. You can therefore only allow domain users to join in-domain created events. This establishes half the walled garden approach, which prohibits outside intruders from joining your events. Since students should not be authorized to create their own meets, these settings are more for your staff members. If staff members may be inviting some outside organizations or individuals, you should consider leaving the setting as the default
Users signed in with a Google account or dialing in using a phone
. 
This will allow outside users to join IF they have a Google account (which is quick to set up when needed). Now, this may change because of some upcoming Classroom and Meet settings that will only make it possible to join meets created in Classroom within the domain. That setting will then allow you to open up the staff
Domain
setting to
All users (including users not signed in with a Google account)
if you want to make it easier for outsiders to join your meetings. To reiterate, students should not be creating meets so these settings would not apply to them, but it may be in your best interest to set students to
Only users from your organization or users dialing in using a phone
. This is just in case students are ever given the ability to create their own meets.

In addition to the
Domain
settings you can also configure which meetings users in your organization can join. This is through the
Access
settings and, by default, users are allowed to join
Meetings created in any Workspace organization
. However, staff members may want and need to meet with people outside of your domain so it is recommended that they are set to
Any meetings, including meetings created with personal accounts
. This will allow them to join meetings externally as needed and won't hinder their use of Meet. 
To complete the walled garden for students, set
Meetings created in your organization only
. This will keep students from joining meetings in other domains. Although you may consider it for higher grade levels, you would enable this if they are meeting with outside groups.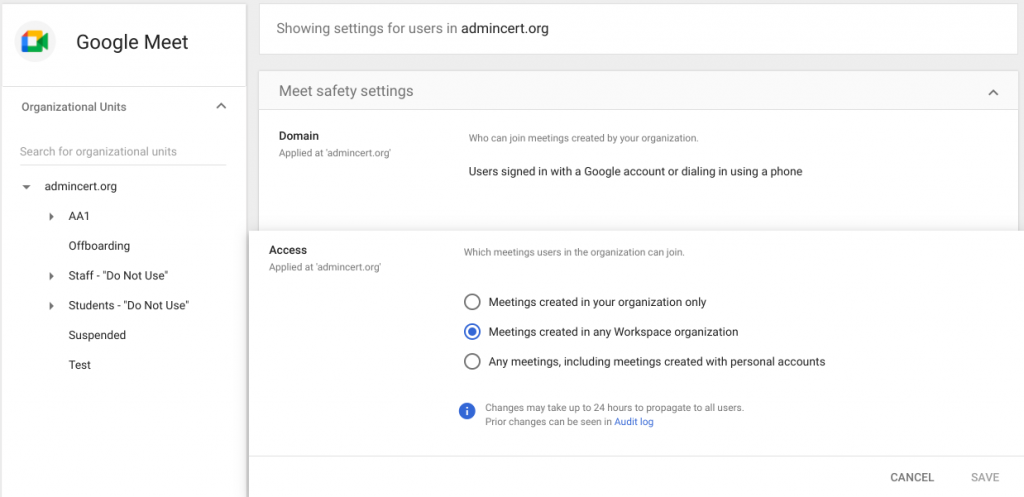 These settings are going to be essential to controlling how meets in our domain will be accessed. These can be used to lockdown settings even further, as necessary. Our recommendations as always are just that, recommendations, and it is important for you to evaluate the needs of your institution before adjusting any setting in the Admin console.
Kendal Shomura
Google for Education Training Consultant

About the Author:

Kendal Shomura joined the Amplified IT team in 2018 after 7 years working in Public Schools as an educator, Instructional Coach, Technology Integration Specialist, and professor in the Masters of Educational Technology program at Touro University. He spent 3 years as a Google Administrator while training staff on how to integrate Google Workspace tools into their classrooms. Kendal's wide array of experiences with Educational Technology allows him to understand the important nuances of technology in schools. Today, he is a Google for Education Consultant who works to help schools better understand and leverage their Google environment for student learning.