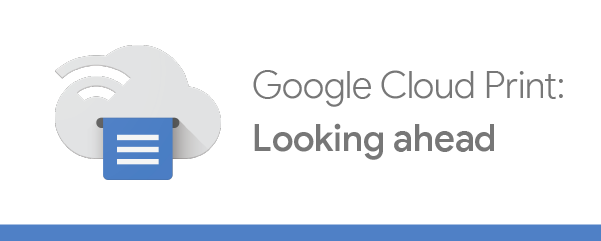 Recently Google announced the sunsetting of Google Cloud Print. Starting December 31, 2020, Google Cloud Print will no longer function on any OS platform so it's important to be mindful of the change and explore an alternate solution. In this post, we will walk you through what's happening with Google Cloud Print, what you need to know to plan for the change, and options available for districts looking to manage printing seamlessly in their Google environments. 
What is happening with Cloud Print? 
Starting in 2010, Google Cloud Print technology allowed for a user to send a print job to a designated printer from anywhere in the world. The print server is connected to the Cloud and receives print jobs through a service running on the print server. 
Since launching in a beta form almost a decade ago, it has not delivered the Education Plus level features most EDU customers need and thus never graduated from beta. According to Google, as their collaboration platforms such as Drive, Classroom etc have reduced printing heavily in EDU they are "migrating Cloud Print users to a more stable and extensible solution – native printing for printing needs from ChromeOS."
What is Chrome OS native printing?
Native printing leverages a print service called CUPS. With native printing, the CUPS server runs locally on the Chromebook.  All print jobs are processed on the local machine, not centrally managed.  You will lose tracking, quotas, error logging, and centralization of print management. Beyond management, there is no way to monitor costs associated with printing nor is there audit on print activity.
What is on the Chrome OS native printing roadmap?
Although Cloud Print is being deprecated, native printing will see further improvements. For the remainder of 2019 into 2020, Google will be adding additional features and functionality to the native print infrastructure. Additionally, Google is actively working with printer hardware manufacturers to make existing printers compatible with Chrome OS so administrators will not need to obtain print drivers.
The following improved features have already launched for Chrome OS native printing:
Ability to bulk manage up to 20 printers

Ability to force policy for 2-sided and color printing 

Policy to manage PIN Code printing

Enhanced set up where users can see and save any available printers (compatible with IPP/IPPS)
Other improvements scheduled by end of year 2019 and beyond:
PostScript Printer Description file (PPD) advanced attribute support for stapling and paper trays

Ability to configure and connect to externa CUPS print servers

APIs for third-parties to access print job metadata, submit print jobs, and bulk manage printers

Printer Management for IPP Everywhere printers and print servers
More information on native printing can be found in Google's knowledge base
here.
What are the benefits of moving away from Cloud Print?
Cloud Print will not be available after December 2020 so it is important to make plans for your organization's printer needs. Third-party solutions tend to provide more detailed tracking/reporting of usage across your domain (by printer, OU, user and printer categories), the ability to place quotas on users for printing, and the ability to set policies for duplexing. Users do not have the ability to print from home and an IP whitelist/blacklist can be established. If the solution is not functioning properly, a comprehensive error log details data such as client ID, date/time, event type, status, target, and actions. The ability to optimize savings on printers and supplies by monitoring usage reports is an additional benefit of moving away from Cloud Print. 
What other options are available now Cloud Print is being deprecated? 
Outlined below are several options for printing on Chromebooks after December 2020. In the section above, we discussed the first method-native printing, which can still be cumbersome. Beyond native printing, we recommend exploring a third-party tool that can make printing less painful. 
A well-known option in print management product that originally was built for the Windows infrastructure. PaperCut is a robust printing solution that uses

Mobility Print

to leverage native printing.  
Unlike Papercut, directprint.io offers a serverless solution originally built for Chrome OS and has expanded to support Windows as well. Directprint leverages native printing and provides a centralized print management solution. Seamlessly integrated with the Admin console, administrators can allocate printer to a user and/or a device, providing flexibility and ease of management. Furthermore, extensive policies are available for mitigating costs associated with printing. Amplified IT recommends directprint as the best option for Chromebook printing as it was built from the ground up with Chromebooks and the Google Workspace ecosystem in mind.
How can Amplified IT help?
Starting December 31, 2020, Cloud Print will no longer function on any OS platform. Be proactive and explore alternatives to Cloud Print now. Our team can explore and analyze your current Cloud Print footprint, walk you through your options, demo suitable products, provide pricing, and set you up with a supported trial.
Book a call today with me, Catherine Weers,
to start planning for Cloud Print alternatives.   
Catherine Weers
Partnership Manager

About the Author:

Catherine Weers joined the Amplified IT team in 2017 after 13 years working in Public Schools as an educator and Technology Coordinator. She has a rich history in Educational Technology. Today, she is the Partnership Manager where she is in charge of ensuring schools get the right tools to fit their individual needs in security, Chromebook management, web filtering, backup solutions and much more. She is your #1 resource so feel free to ping her and chat about how she can help your district find the right fit.