Whether your district is new to Google Workspace for Education or you've been using it for years, you've probably heard some buzz about Google Classroom. A "lite LMS," Classroom gives your teachers a way to easily create posts and assignments for students, manage student Doc submissions in Google Drive, communicate and share student information with parents, and quickly adopt applications that integrate with Google Classroom's rosters and assignment flow.
As an IT Admin, what are some key features and practices that could help you better manage Google Classroom on a Google Workspace domain?
I'm glad you asked! Classroom is part of Google Workspace for Education's list of core services, so IT Admins are the ones turning the service on for users and managing its settings. And if you're like a lot of the other districts we speak to, you're also getting the support tickets when "Classroom isn't working for me," or the questions from principals about which teachers are using Classroom (and which aren't). So even if you've never used or even seen Classroom, the top 5 things you need to know below will give you a leg up in better supporting your stakeholders, teachers, and ultimately, students.
Classroom usage reporting
As a Reports admin or super admin on your school's Google Workspace domain, you have access to basic Classroom reporting in the admin console. Navigate to Reports>Apps>Classroom and you can see 14-day active, new classes, and new posts activity trackers.

While this report is a great start and gives you a general understanding of when Classroom usage spikes or drops off (like the start of school, as seen above), it doesn't quite get to the meat of the problem –
who is actually using Classroom?
If you need
more
data, one of our tools here at Amplified Labs,
Little SIS for Classroom
, provides much more nuanced reporting around Classroom usage and adoption. Total active classes, unique students per teacher,  total assignments per class and teacher, and breakdowns of these metrics by teacher organizational unit are just some of the information that we can provide.
New Classroom updates gotchas
In August of this year, Google released a swath of
new updates
to Classroom which are sure to excite your teachers. Most of the updates really don't impact the IT Admin, unless you're one of the lucky ones who gets those Classroom-related helpdesk tickets. For you, I've listed a few of the gotchas that I've run across with districts, and how you can help your teachers navigate the new changes.
Gotcha #1
– With the introduction of the Classwork page, teachers are now able to organize and post assignments in a separate section of the Classroom rather than via a plus icon on the Classroom homepage. Have them navigate to Classwork page, and they'll find all the familiar options and some new ones!

Gotcha #2
– If teachers are reporting that they do not see the Classwork page in their Classroom, you can direct them to click on the About icon in their class, then "Add Classwork page." Any teachers who created Classrooms prior to August 7 will have to follow this method to add the Classwork page manually
in each of their classes
.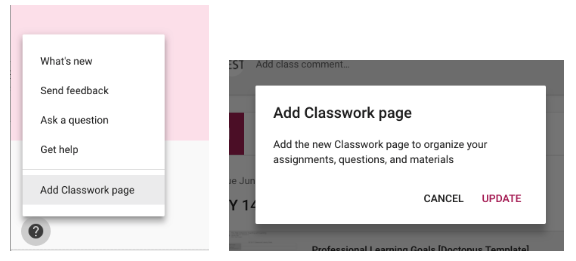 Gotcha #3
– If you are managing Classroom deletion via GAM, you may have discovered that the Classroom API endpoint changed with the updates in August, rendering you unable to delete classes over the past month and a half. The Classroom team reports that this issue has now been solved, so you can continue to use GAM for Classroom deletion as you did before.  
Don't let GAM get you!
We
only
recommend deleting Classrooms that contain
no relevant student or teacher data
, like old "test" Classrooms, student-created Classrooms, or provisional Classrooms that are no longer needed. Any Classrooms that contain student work should be archived rather than deleted to avoid losing student and teacher content. Unfortunately, it takes a lot of extra manual analysis in GAM  in order to get a clear understanding of whether the classes you're deleting contain relevant data.
Little SIS for Classroom
can help you here, too, giving you a clear picture of which classes you're deleting before you run the bulk delete action, and the students, teachers, and coursework attached to these classes.
Classroom training for teachers
If you're in a smaller school or district, instructional training may also be part of your job description. Lucky for you where Classroom is concerned, Google already has you covered. The recently updated
Teacher Center
provides an on-demand, video-based Classroom training curriculum for teachers getting started with Classroom – as well as additional resources for those teachers who are already rocking and rolling.
Let Google do the training for you.
While we're on the subject, you may also want to check out the
other training curriculums
in the Teacher Center, like Devices Training, Digital Citizenship and Safety, and Tools for Diverse Learners Training. If training isn't part of your every day, you can pass these on to your Instructional team!
Beyond Google Classroom – Using Classroom as a rostering and assignment workflow solution
If your district uses tools like BrainPOP, Khan Academy, Newsela, Pear Deck, and
many more
, your teachers have a lot of platforms to juggle, all of which rely on their class rosters in order to be effective. Google has provided open access to the Classroom API, allowing districts and developers to leverage the power of Classroom as a gateway to syncing student rosters and allowing teachers and students to link assignments from other platforms via the Classroom "turn-in" workflow. So if teachers keep their Classroom rosters up to date, implementing these other tools is a breeze!
If your district is not widely using Classroom and you want to automatically create Classrooms for teachers
and
keep rosters up to date throughout the school year,
Little SIS for Classroom
is a great way to even playing field and open your district to wider adoption of not only Classroom, but countless other instructional tools.
Classroom and Chromebooks
If your district is using Chromebooks, you've probably had teachers and principals ask about ways that they can manage these devices in the classroom to keep students on task. Google
announced
at ISTE 2018 that they will be releasing a "locked mode" feature to Google Forms on managed Chromebooks, powered within Classroom. This awesome addition to Classroom will allow teachers to lock students into a quiz, and prevent them from navigating to other browser tabs while locked. Google anticipates the release of locked quiz mode this fall.

If you just can't wait, or you want even more functionality, like opening tabs for students, locking students into specific web pages, and even locking student's screens completely, you should check out some of our partner services.
GoGuardian
,
Hapara
,
Lightspeed Relay
, and
Netop Vision
are great choices for in-classroom device management. And what's better – all of these solutions use Google Classroom as a rostering solution!
Part of our mission at Amplified IT is to work with schools to find the best solution for their needs, and budget.
Book a call
with our Partner Manager, Catherine Weers,
 who can give you a side-by-side comparison of these tools, and many more!
So there you have it – the top 5 things that you need to know about Google Classroom in order to better support your teachers!
What's next?
Get in touch with me!
If you want to learn more about automatically creating Classrooms for teachers and keeping rosters up to date throughout the school year or you need access to more data about Classroom adoption,
book a call with me
to get a better look at
Little SIS for Classroom
.
Find this article useful? Share it!
Melanie Long
Customer Success Manager

About the Author:

Melanie lives in Virginia and is based in Amplified IT's home office located in Norfolk. One of the first members to join the Amplified IT team, Melanie has worn many hats at the company. She most enjoys interfacing with customers and helping them implement tools that solve common pain points and frustrations. Today she leads the onboarding and interfacing with Labs tool clients, making lives easier and breezier one implementation at a time.