In the Admin console, the Alert Center is a powerful tool. It is where you, the Google administrator, view a summary and detailed information on alerts. Google recently added an Alerts widget accessible from any page in the Admin console that lets you view notifications directly from the Admin console toolbar. This change gives you 1-click access to the top 10 alerts and 2-click access to the alert center from any page in the Admin console, making it easier to check alerts regularly.
If you haven't noticed it already, there is a new bell icon at the top-right of the Admin console. Click the bell to open the Alerts widget. Once open, you'll see the 10-most recently updated alerts. The Alerts widget is automatically available to all Admins in all editions of Google Workspace. Meaning, there is not a setting to turn the Alerts widget ON or OFF. Any configured rule that has its alert ON will show in the Alerts widget.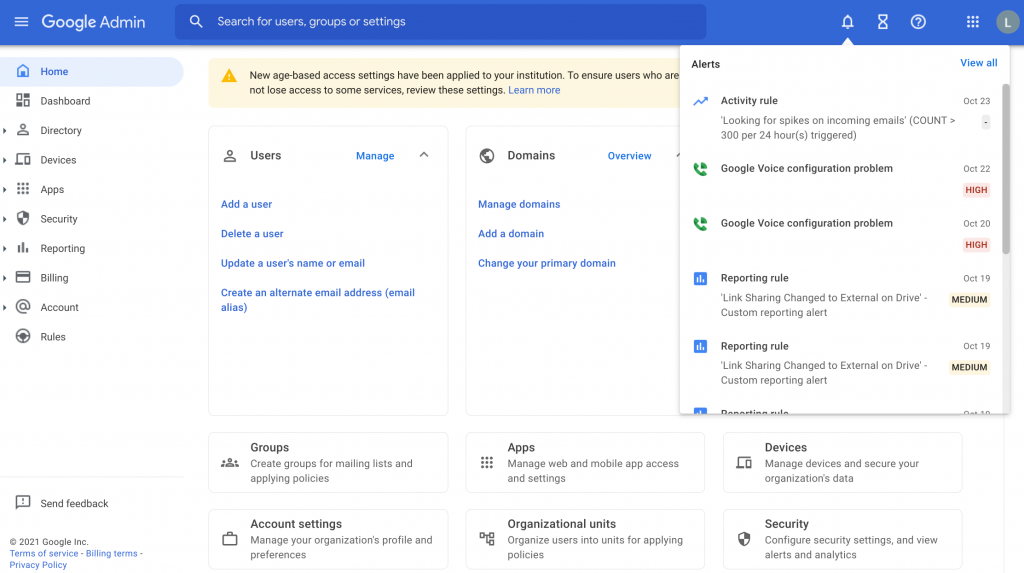 With the Alerts widget you can:
View alert details including related app, description, severity, updated date.

Open the Alert details for an alert by

clicking on the alert

in the Alerts widget. 

Open the Alert center to see all alerts by clicking

View all

in the Alerts widget.

The Alerts widget provides a quick and convenient way to be sure you are aware of alerts. You can navigate to the alert center using the left navigation pane, you can rely on email notifications, and now you can open the alerts widget to get that at-a-glance view.
As a reminder, there can be a lag in alerts populating to the Alerts center and Alerts widget. Depending on the type of alert and the amount of information to scan, some alerts may take time to populate.
If you need information on using the Alert Center, the Google Workspace Admin HelpDesk has some great resources:
About the Author:

Lorrie was born and raised near Pittsburgh, PA. She is a proud graduate of Slippery Rock and Chatham Universities. She holds degrees in Business and Professional Writing. In her role as Technical Writer, Lorrie adds clarity to all things Amplified IT. She continually looks for better ways to explain the 'how' and 'why' for our products and services. Being a Pittsburgh native, Lorrie loves all things black and gold. When she does get downtime, she enjoys family, baking, walking, and archery. A fun fact: Lorrie participated in the largest wedding cookie table which earned a Guinness World Record with 88,425 cookies!