In the
last Collaborative Corner
we talked about how we discussed over 400 Google and Chrome updates in 2021. That's a lot! It's hard to stay on top of what is really important even when you're attending live streams focused on updates. Many times you go away with more questions because you learned about new features.
That's where our online community comes into play. The
Google Technical Collaborative
is a resource that gives members a place to go inbetween those live streams to get answers they need and to help others find solutions to their challenges. The Collaborative is not just a message board or an online forum. It's "a safe place to ask any questions that you have about Google" (Randy Damewood, Director of Technology, Coffee County School District). It's a place where "other Google Admins are genuinely wanting to support each other with their knowledge and experience" (Matthew Connors, IT Director, Bialik Hebrew Day School) or as Chris Shearer, (Wake County, NC Public Schools) states, "the Collaborative is my go to." 
With so many Google Admins coming together to give and receive support, we outgrew the digital space.
So in November 2021, we moved our community into a platform that could accommodate our expansion and I want to share just
a few
of the great new features our members are enjoying.
1. Multiple forums based on topic
Members are able to easily find, search and engage in topics relevant to them. We've broken down our discussion into Google for Education, Chrome Management, Google Workspace Paid Editions, Announcements, and more.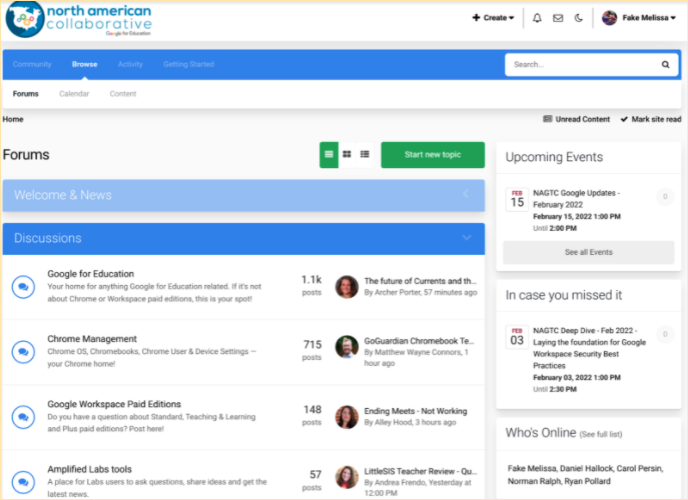 2. A robust set of features allows for great collaboration and engagement
Members now have access to a WYSIWYG editor, drag and drop files, polls, "quoting", threaded commenting, reactions, and more. They can easily see when a question has been resolved by a "Solution" icon, and the badging and achievement system also increases collaboration and engagement.


3. Follow what you want and get notified how you want
Members can subscribe to any forum, topic, or activity stream and receive either immediate, daily, or weekly email notifications with a roundup of content they may have missed.
4. Searching 
By far, our members' favorite feature is the Search. Simple, right? But being able to search by content type, keyword, member, tag, time period, and more helps Google Admins get to what they need quickly.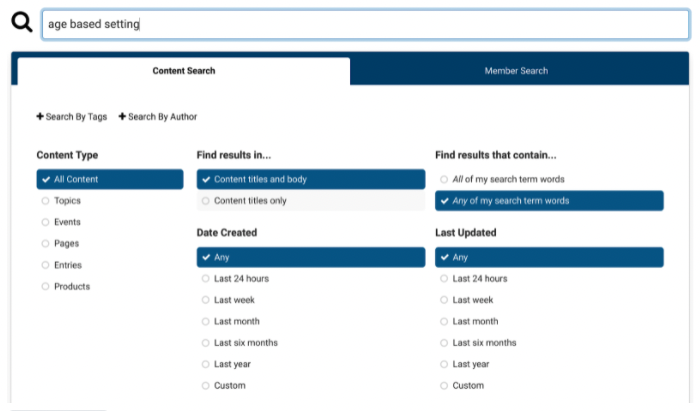 5. Whats' going on in the Community?
With our "Upcoming events" and "In Case you missed it" widgets, at a glance members are able to see what's happening in the community.

6. Access to on-demand content
Did you miss a live stream? Need that slide deck from last month's Deep Deep? Members can head over to our on-demand content area, conveniently located within our menu navigation.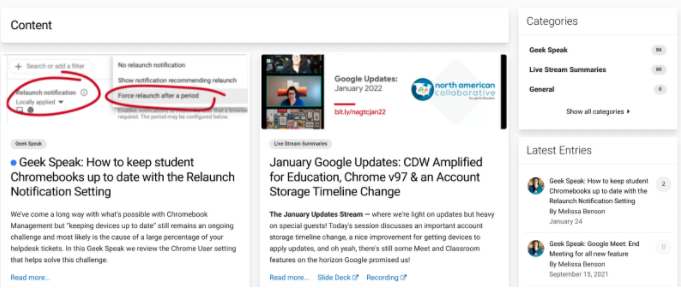 Providing an enhanced and sustainable community platform was critical for the Collaborative to continue to grow and improve. With the feedback from our amazing members, we will continue to evolve and find new ways to use the platform and solve your most pressing technical challenges.
If you are Google Admin looking for your "people" and a community of support like this one,
contact a Google Customer Success Specialist
to discuss becoming a member of the Google Technical Collaborative. To experience the value of this community,
register to attend a sample session as a guest
.
Melissa Benson
Google for Education Technical Collaborative Lead

About the Author:

Melissa has been a Google Workspace for Education Consultant for Amplified IT since 2015. She began working with the Google for Education (GFE) Admin console in 2008 where she helped implement and integrate Google Workspace and Chromebooks into multiple K-12 school districts. Now, as part of the Amplified IT Team, she continues to help schools set up and manage Google Workspace environments with educational best practices with an emphasis on facilitating the North American Google Technical Collaborative.