Like a medieval city, the structure and options contained within Google Groups settings have clearly had to serve many masters and live through many different phases of redesign over their long and storied history, leaving behind a bit of a hot, tangled mess.  
As part of modernizing this somewhat-stinky corner of Google Workspace, Google has been cleaning up their group settings — combining overlapping functions and removing rarely used ones to make an easier experience for end users. In turn, we will be updating our Gopher for Groups tool and will re-launch it on June 3rd.
The most noticeable changes you will see are the segregation of permissions into three main titles;
moderate members
,
moderate content
, and
moderate metadata
. It is important to note that if members do not currently have all of the listed merged permissions when the update takes place, the new setting will be turned off. Also, if any of the permissions are set to "none selected", they will be ignored and the new setting will be turned on.
Permissions being merged to create moderate members:
Add members

Approve members

Ban users

Invite members
Permissions being merged to create moderate content:
Approve messages

Delete any posts

Delete topics

Lock topics

Move topics in

Move topics out

Post announcements
Permissions being merged to create moderate metadata:
Take topic

Mark duplicate

Change tag or category

Hid abuse

Sticky topics

Unassign topic

Mark no Response needed

Unmark favorite reply on any topic

Mark favorite reply on any other user's topics

Assign topic

Enter free form tags
Another notable change is the setting changes being applied to

list this group in the directory.

The new setting is called

"Who can discover the group"

 and can be set to 'all members', 'all in domain', and 'anyone'.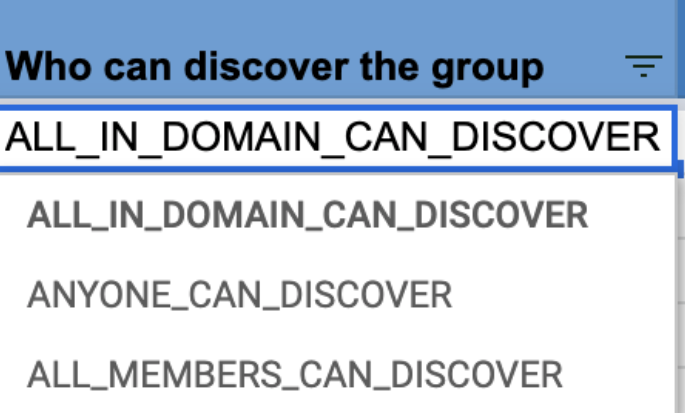 Our updated version of Gopher for Groups will be able to help you adjust the settings on all of your Google Groups in one convenient Google Sheet. We have also revamped our help guide with screenshots on where you would edit the settings in the Google Groups Interface as well as the Google Admin console for your preference.
So, given all these renovations to the old castle walls, what are you waiting for? Any Gopher for Groups user (even those using the free version) can download and inspect the newly streamlined structure of group settings. Given Google made some (possibly wrong) assumptions in the transition, we strongly recommend you take a moment and give your group settings a sanity check.
Simple steps to getting started with Gopher for Groups:
If you have any additional questions, contact us so we can help.
Andrea Frendo
Support and Onboarding Specialist

About the Author:

Andrea lives in Virginia and is based in Amplified IT's home office in Norfolk. She came from a local 1:1 school district of about 70,000 students, where she ran their hardware support team. Today, she has taken over the Labs support center and enjoys building relationships with customers and helping them overcome obstacles to achieve their goals.