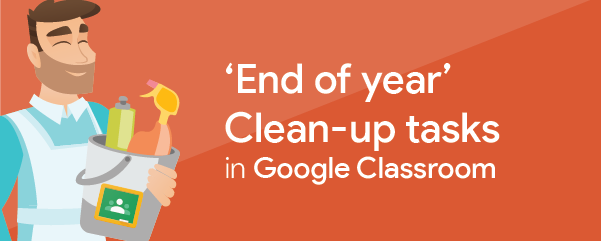 June 15, 2020
While recent events have thrust schools head first into distance learning, many are finding that they are struggling to adapt some of the most basic daily activities, like tracking whether or not students are participating. With students, teachers, and even devices now at home, the reliance on technology has never been greater. Like many of the schools we work with, G Suite has taken an even more prominent role in the daily lives of students and staff, with many districts seeing huge upticks in Google Drive, Meet, and Classroom usage, and they have the support tickets to prove it. The familiar question that tech departments are wrestling with now is: How do we know when students are not engaging with the online resources and activities we're offering?
Measuring student engagement is not a new question for schools, but the absence of in-person instruction makes it a much harder one to answer. Many IT departments are looking to technology – analytics and data – to help solve this problem. At the very basic level, knowing whether or not students are even logging in to their school G Suite accounts can be the most important indicator of disengagement. Eston Melton, Executive Director of Information Services at City Schools of Decatur, offered a simple solution in our North American Google Technical Collaborative online community: Gopher for Users.
Using Gopher for Users, an Add-on for Google Sheets, Eston was able to pull the native login reports in the tool to see the number of students who have logged in within the past 7 days, 7-14 days, 14-30 days and beyond. Particularly the Data Studio reports, which create a visual, explorable dashboard that can be shared with other district leaders. Once set up, this dashboard refreshes daily as your user data changes.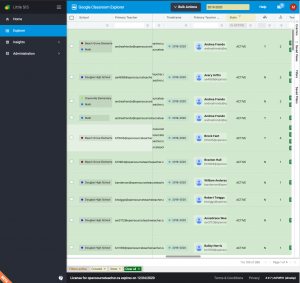 From here, you can filter to Active classes, and even include a date range, and run the Bulk Action to archive classes in bulk. This will remove all of the active classes selected from the homepage in Google Classroom, and into the Archived classes section. Teachers will be able to restore these classes and can re-use class content in their new classes next year. With Little SIS, you can optionally send the teacher an email to let them know that you have performed this action when it runs.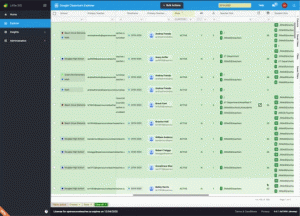 If you're a GAM user, you can download a list of all your classes using the print courses command, then filter down to the list of classes you want to bulk archive (or print courses state active if you want to skip the filtering and return only active classes). Next, you'll use GAM to ingest this list and run the update course action to change the status of these classes to ARCHIVED by course id or alias. You'll want to reference the BulkOperations GAM wiki page for instructions on running this as a bulk task via CSV or Text file.
Bulk Delete Provisioned Classes
If your district used a syncing solution (be it Little SIS Sync Agent, Google School Directory Sync, a direct SIS sync, RosterSync, etc.) or bulk-created Google Classroom classes for teachers via GAM, you may have some provisioned classes on your domain. These classes are not active – teachers never accepted them, and since the school year has ended, they are no longer needed. We certainly don't want to confuse teachers next year by showing them old classes in Google Classroom!
Like above, you can use Little SIS for Classroom to identify the Provisioned classes on the domain, and using the Bulk Actions menu, you can delete these from teachers' Classroom home page. Because they were never accepted by the teacher, there is no work associated with them, and students never saw them on their homepage.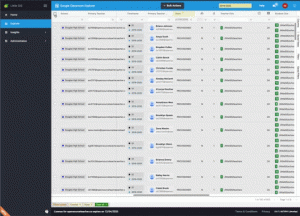 In GAM, you'll follow the steps for archiving classes in bulk – first using print courses state provisioned (or filter the list from before if you exported all courses), then delete course to remove the provisioned courlasses from the domain by class id or alias. Again, you will want to run this as a bulk operation via GAM.
Transfer Ownership Before Deleting Users
The last step here is one that has really messed up a lot of admins – when deleted users own Google Classroom classes, those classes are effectually "orphaned" and there is not many actions that can be taken to remedy the situation. This is especially problematic if there are still students in the class, as they can continue to interact with one another unsupervised if the class is set to allow students to post to the stream. This is why we always recommend transferring ownership of all Google Classroom classes prior to deleting a teacher account.
You may choose to transfer these classes to a service account or to another user in the domain, like the teacher taking over for the one who has left the district. Regardless, keep in mind that transferring ownership acts as an invitation, and the new teacher must accept that invitation before you delete the primary owner's account in order to avoid orphaned classes. Many districts choose to simply suspend teachers rather than deleting them right away, which would still allow the classes that they own to be transferred to another user. In addition, the primary owner is retained as a co-teacher in the Classroom, and the new owner can later remove them.
In Little SIS for Classroom, you can identify classes that need to be transferred by filtering to the Primary Teacher in the Explorer, and then use the Bulk actions menu to change the primary teacher of all these classes. Little SIS can optionally send the former owner a message alerting them to the change – the new owner will receive a message from Google Classroom, prompting them to log in to Classroom and accept ownership of these classes. Note that only active classes can have their ownership changed, and the new owner will show up as a co-teacher in the tool until they have accepted the invitation to take ownership of the class.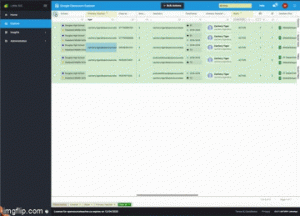 Much like the previous two actions, the GAM update course command can be used to change ownership of Google Classroom classes (update course owner). The same stipulations apply – the class must currently be owned by a non-deleted user on the domain, and must be active.
Next Steps
If you're a newbie to GAM – feel free to take a stab at using it on your domain. I recommend referring to the Getting Started Guide in github, which is also where all the referenced commands in this article are also located. GAM can do much more than Classroom management – so it's a great skill to have if you do a lot of bulk operations in G Suite. You must be a super admin in order to use GAM, and you'll also have to enable Google Cloud Platform to utilize the API commands.
Little SIS for Classroom is a paid tool from Amplified Labs, but you can use it free for 30 days with a quote. You'll have to be a super admin to get up and running with the tool, but the bulk actions can be delegated to other users on your domain regardless of their admin status in G Suite. Head on over to the Little SIS website to get a quote for your domain and start your trial, and check out the Help Center for the Getting Started Guide as well as knowledge base articles on Bulk Actions and more!
Melanie Long
Customer Success Manager

About the Author:

Melanie lives in Virginia and is based in Amplified IT's home office located in Norfolk. One of the first members to join the Amplified IT team, Melanie has worn many hats at the company.  She most enjoys interfacing with customers and helping them implement tools that solve common pain points and frustrations. Today she leads the onboarding and interfacing with Labs tool clients, making lives easier and breezier one implementation at a time.