Back in the Summer, consultant Kendal Shomura warned us that the end of Google Classic Sites was near. While that is still the case, the timeline has recently been pushed back. 
In this Collaborative Corner, we'll review the very latest with the Classic Sites deprecation and what Google Admins should be doing to prepare for it.
Let's start with the timeline. As of right now, classic site creation is no longer possible but editing still is. Starting in June 2022, editors will no longer be able to edit their Classic Sites but viewers will still be able to access them.
However, starting July 1, 2022 when a user tries to visit a classic site, they won't see the Classic Sites content at all.
This is an update from the November 16th
Google blog post
.
But does this delayed timeline change our recommendations? Should it change your already planned transition? We don't think so.
So then, what should Admins be doing to ensure there is as little disruption as possible next Summer? There are a few actions we recommend that all Google Admins take:
This is a great tool to allow Admins to view all Classic Sites in their domain(s). From here, you can not only see which sites are still being edited and viewed but you're able to perform actions like delete, convert to a new site, or simply export the data into Google Sheets.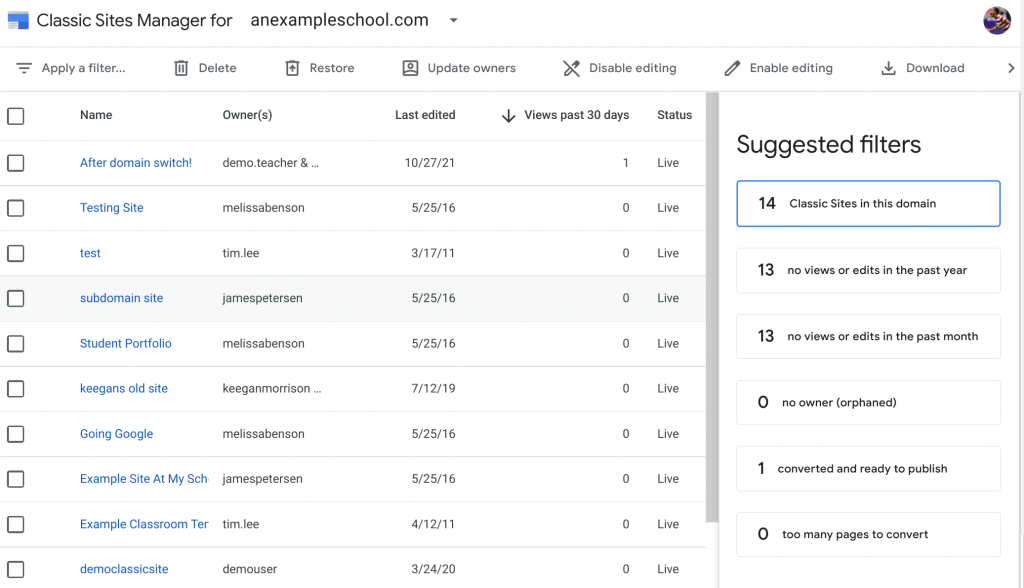 Disable Classic Sites editing now
Starting June 1, 2022, Classic Sites will no longer be able to be edited [previously december="" 1st,="" 2021=""][/previously]. And unless there's a reason why a specific user can not convert to New Sites, we recommend disabling that function yourself, as a Google Admin now. Let's get ahead of the game and disable site editing before it's forced upon users. This way, you can re-enable editing and have some buffer time to reach out and work with users. You can disable editing from within our handy
Classic Sites Manager tool
. Think of it as a "scream test" that you can easily undo if needed.
Decide what to do about non-converted Classic Sites & know the impact on users
If no action is taken on Classic Sites before the deprecation, all eligible Classic Sites will automatically be converted into a New Sites draft and are automatically downloaded as an HTML file and saved to the owner's drive.
Why is this important?
Because at that time, your staff and students may be seeing old sites in their Drive as a draft new Google site which could cause confusion and unwanted files in Drive.
The road to Classic Sites deprecation has been a long one and while the majority of your users will already be moved over, there could still be a handful left. It's an easy task to use the Sites Manager tool and look at the "views past 30 days" to know the impact. From there, you can determine what actions and communication are needed.
To take a deeper dive into Classic Sites deprecation check out
our event
from the Summer. I'd also recommend bookmarking
Google's help page
to stay updated with timeline changes — or let us take care of that for you and join the
Google Technical Collaborative
, where you'll always be in the know with the latest in Google changes and updates. 
Melissa Benson
Google for Education Technical Collaborative Lead

About the Author:

Melissa has been a Google Workspace for Education Consultant for Amplified IT since 2015. She began working with the Google for Education (GFE) Admin console in 2008 where she helped implement and integrate Google Workspace and Chromebooks into multiple K-12 school districts. Now, as part of the Amplified IT Team, she continues to help schools set up and manage Google Workspace environments with educational best practices with an emphasis on facilitating the North American Google Technical Collaborative.