Overview

Plug Centipede into a Chromebook and it will automatically manage the keystrokes on the enrollment screens; setting SSID, network passwords, and clicking "Next" for you. Multiply your staff's efficiency with your next Chromebook deployment and enroll many more devices per hour.
Centipede is an ultra-cheap high-value solution involving a micro-controller and some open-source code that can dramatically increase your team's efficiency during large Chromebook deployments. Plug the micro-controller into a Chromebook and let it do the keystrokes through the enrolment screens, setting SSID, network passwords, and clicking "Next" for you — allowing you to enrol many more devices per hour.
Get up and running quickly

Choose the Centipede script for ChromeOS version 57 (and lower), or ChromeOS version 58 (and higher). Make a copy of the script you'd like to use, and modify it to include your local network settings, then program the device. The images on the left show the welcome screens for versions 57 or 58. Be sure to pick the script that matches, as the enrollment process has changed.
Find answers to your questions

Centipede is free and open source. If you have purchased support hours from Amplified IT, you can use them to get one-on-one help to modify the code to suit your needs by submitting a support ticket.

If you don't have support hours and don't want to purchase them, but still have questions, we will not be able to answer questions directly, but you can take a look at the support and FAQ pages, or head over to the Centipede Google Plus community to find answers. There, you can submit a bug report, request a feature, or share some of the amazing things Centipede can do!
See it in action
Next time you're enrolling a large number of Chrome devices, arm your staff with five or six Centipede units each and watch the work disappear.Big thanks to technology coordinator Kimberly Hauser for producing this video!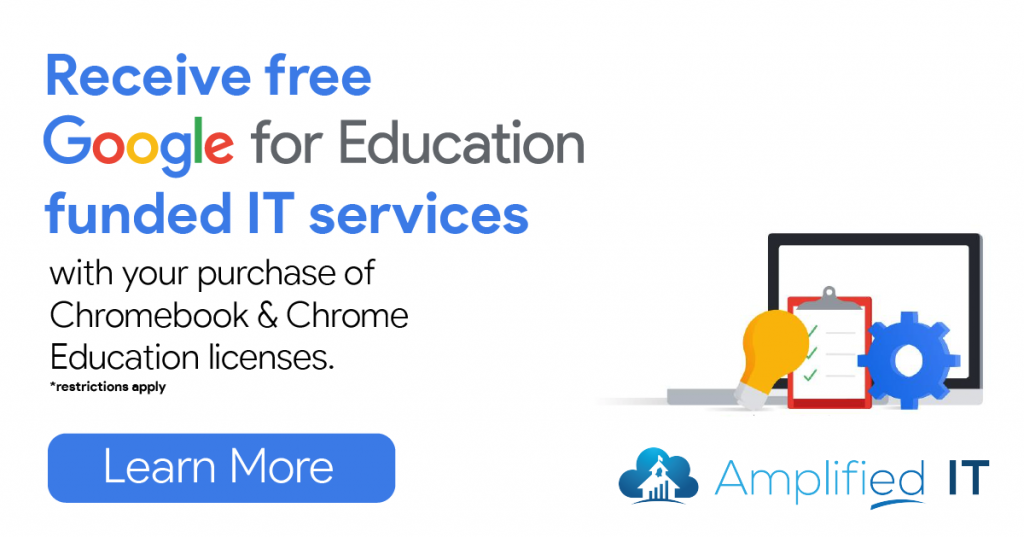 How it works
Purchase the Arduino Pro Micro at Amazon or the micro-controller at CDW. If this model is out of stock, we've also tested this model at Adafruit.
Make an account on Arduino Create.
Determine if you are enrolling a Chromebook with version 57 (or lower), or version 58 (or higher).
Fire up a factory-fresh Chromebook and plug in Centipede via a micro-USB cable
Watch and weep tears of joy as Centipede does the dirty work for you
Note: The Centipede code is open source and free of charge. We recommend getting 5 or more units per staff member that will be involved in unboxing /enrollment. If your team requires assistance beyond our help community, please purchase or utilize your existing Amplified IT support hours as necessary.