Google has released the ability for teachers to sync Classroom assignments and grades to student information systems that support the OneRoster API.
With the release of Gradebook Sync, Google will support syncing of
assignments and grades
between Google Classroom and the
Infinite Campus
Student Information System (SIS). Expansion to include other major SIS providers that support the OneRoster API is anticipated soon. If you are an Infinite Campus or CapitaSIMS district, you can sign up for the early access beta program here.
Teachers will be able to sync their assignments and grades from Google Classroom back to the internal SIS gradebook.  This new integration removes dual grade entry — grades and assignments can be pushed with a few clicks directly to the student information system.
For administrators, this new integration means fewer tools teachers need to learn about and less room for error in grade entry.
It's important to note that Google is
not
supporting roster syncing (creation or updating of Google Classrooms from the SIS) or guardian email syncing at this time.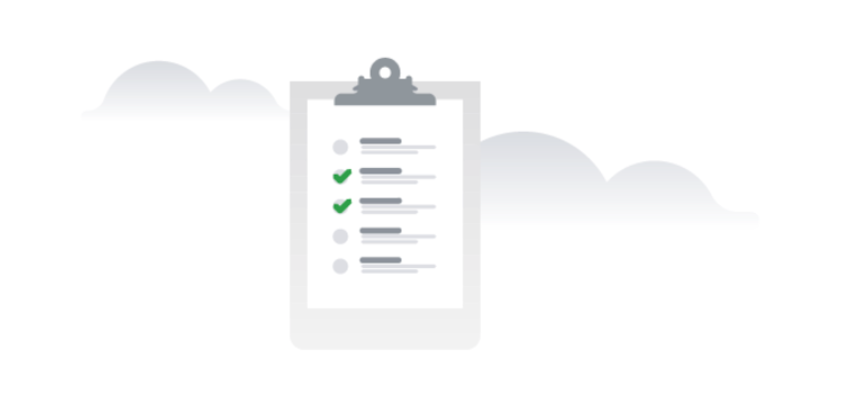 Features in grade sync
With the grade sync release…
Administrators
can:
Establish a connection between your SIS and Google Classroom for their domain.  Note that currently this applies to Infinite Campus and CapitaSIMS, and for schools accepted to the closed beta.   Additional SIS providers that support the OneRoster API will likely be added later.

Configure sync settings that apply to Google Classroom teachers in their domain.  We don't yet have any details on what configuration options are possible.
If enabled by the administrator,
Teachers
can:
Manually link existing Google Classroom classes to your SIS

Push assignments and grades from Google Classroom to the SIS

Unlink any linked class
Grade sync SIS data requirements
Syncing of grades for existing Classroom users to users in the SIS will rely on the email address field for users, so a valid G Suite email address must be maintained within the SIS for each student.
Features that are NOT available
Google will
not
be launching the ability to:
Provision Google user accounts based on data from the information system.  (Note: This functionality can be found within Amplified IT

GfE Sync

and

Managed Sync

services.)

Pull assignments and grades from the information system into Classroom.

Push changes in rosters from Classroom to the information system.

Pull changes in rosters from the information system to Google Classroom.  (Note: This functionality can be found within Amplified ITs' Little SIS for Classroom feature 

Little SIS Sync Agent

 as well as our

Managed Sync

service)
What does each Amplified IT provisioning offering do in comparison to Google's OneRoster support?
As you can see, Amplified IT's various provisioning solutions offer functionality that is complementary and supportive of Google's OneRoster grade sync.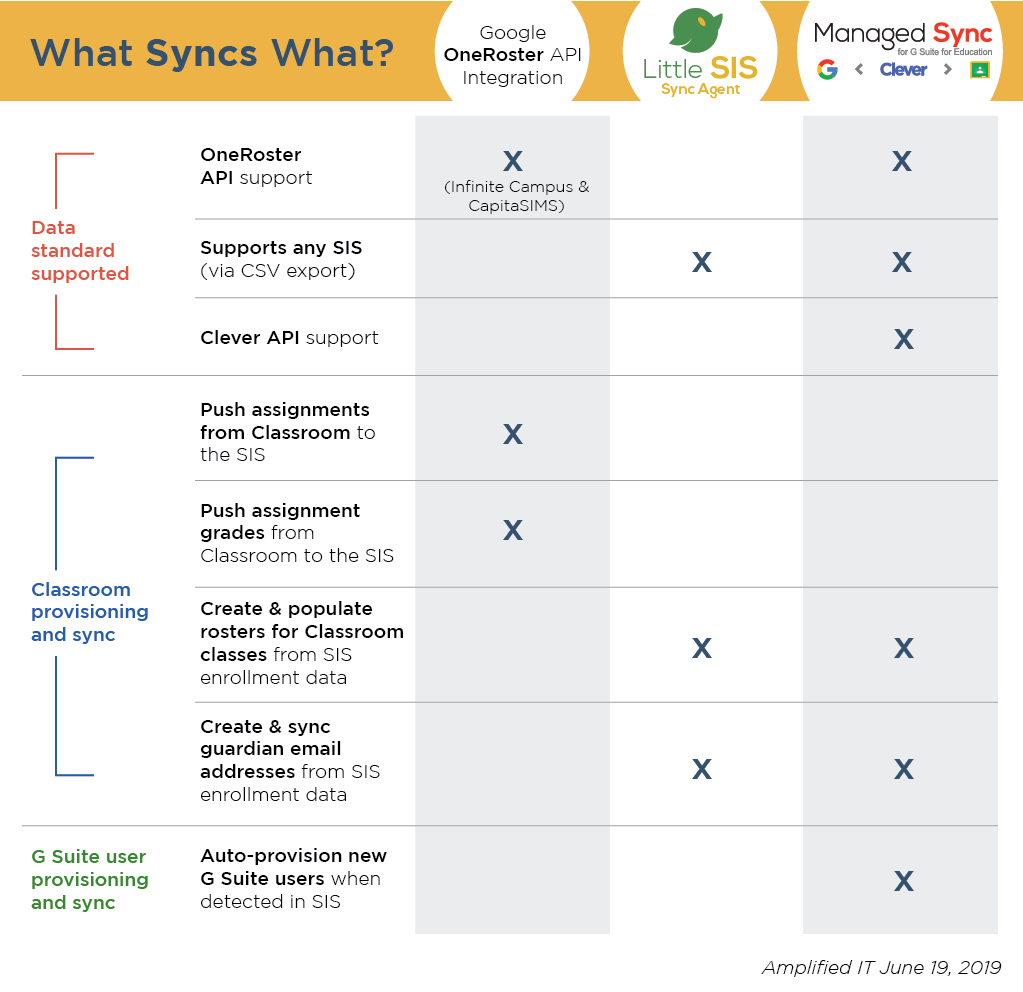 What does this mean for schools using Little SIS for Classroom or our Managed Sync service?
Remember that this Google release…
focuses only on the syncing assignments and grades

only applies to districts that use Infinite Campus as their student information system (for now)
This means…
If you are not an Infinite Campus district, you'll want to inquire into whether your SIS provider plans to support the OneRoster API and Google's grade sync integration.
If you are an Infinite Campus district using the Little SIS Sync Agent or our Managed Sync service, and you can get into the closed beta for this Fall, this release will very likely multiply the impact of your investment in the provisioning and syncing of rosters.  
Why? Because teachers with auto-synced rosters gain even more benefits from being able to push their assignments and grades automatically back to the SIS without having to handle roster maintenance and mismatches.  
The Little SIS for Classroom web app strongly complements the grade sync experience
With the arrival of grade sync, teachers will discover increasing time-savings and value in adopting Google Classroom as the primary online "space" in which they assign and manage work with students.  The Little SIS web app empowers your building-level admins to more fully support their teaching staff in this journey.
The
Little SIS for Classroom web app
gives IT administrators live,  academic year and school-by-school disaggregated insights into Classroom usage across your domain as well as the ability to perform convenient bulk management tasks on classes.  
In addition, Little SIS for Classroom creates new administrative superpowers and insights in Google Classroom for
principals, technology coaches, SPED coordinators,
and
IT support staff.
  Using fine-grained custom roles, and by "tagging" Classes by school and academic year, super administrators can delegate useful powers such as the ability to view adoption metrics by teacher, to join and explore a class as a student, or to assign a co-teacher or change the primary teacher of a class when a staff member is absent or on leave.
What we recommend:
To get the most out of Google's grade sync
If you are an Infinite Campus or CapitaSIMS district, you can contact your SIS provider and ask them when they plan to support the OneRoster API and Google Classroom grade sync integration.

Use the Little SIS for Classroom to explore usage across your district to gain a baseline measure of adoption, assess your teacher training and support needs, and take management actions on Google Classroom such as bulk-archiving all classes from last year.

Use the Little SIS Sync Agent feature of Little SIS for Classroom 

or

Managed Sync for G Suite

to provision classes in Google Classroom.  This will help ensure:

The classes adhere to naming conventions to make it easier for your students and staff and for future reporting

Rosters are kept in sync as the school year starts

If you have no automated user-provisioning solution, Managed Sync will also auto-create G Suite accounts for students

Guardian email addresses can be auto-maintained to allow Classroom notifications to be a part of the school-home student support relationship
Click here to learn more about Little SIS for Classroom
Andrew Stillman

About the Author:

Andrew lives in NYC and is best known for founding the CloudLab at the non-profit New Visions for Public Schools, where he led the technical development of Google-Apps-based data tools that were adopted in over 200 schools through NYC Department of Education school-reform initiatives.  Andrew taught a range of STEM subjects for ten years in the public school classrooms of NYC, and was co-founder and assistant principal of NYC's Columbia Secondary School for Math, Science, and Engineering.  Andrew is a Google Certified Innovator and a Google Developer Expert.  When Andrew isn't coding and designing products, he can be found experimenting in the kitchen, riding his bike, and working on maker projects with his kids.